Sarens takes delivery of the first Liebherr LR 12500-1.0 crawler crane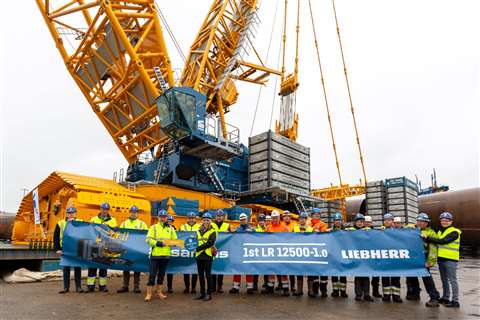 International heavy lifting and transport specialist Sarens has taken delivery of the first unit of Liebherr's 2,500 tonne capacity crawler crane, the LR 12500-1.0.
The handover took place at the Port of Rostock on the coast of north east Germany on 1 April, a year after the first announcement of this new model. In the ceremony Sophie Albrecht, Liebherr Board member, handed over the crane to Marc Sarens, Sarens director and Board member. The family-owned company will use its new lattice crawler crane primarily in the renewable energy industry, for example, lifting components for offshore wind turbines.
Commenting on the latest acquisition Carl Sarens, director technical solutions, projects and engineering, said, "The capacity of the LR 12500-1.0 is enormous. Operations in the renewable energy sector, such as here in Rostock, are a particular focus for the crawler crane. The handling of offshore wind turbines in ports is becoming more and more important and the individual weights of the components are constantly increasing. The initial assembly of the new crane worked very well."
Putting it to work
Rostock will be the first place the LR 12500-1.0 will be put to work. It will lift 50 monopile foundations for offshore wind turbines. Each one has a diameter of up to nine metres and a length of up to 90 metres. As they weigh more than 1,400 tonnes they will be lifted into the water in tandem with an 800 tonne capacity Liebherr LR 1800-1.0 lattice boom crawler crane. Total lift weight, including all load handling attachments and other rigging, will be 1,750 tonnes.
This job will last about eight weeks. When the cranes have loaded each monopile into the water, a special ship will then take them to the Baltic Eagle offshore wind farm about 30 kilometres north of the island of Rügen.
During the handover Sophie Albrecht, responsible for, among other things, the Liebherr mobile and crawler crane division, added to the already auspicious family-orientated occasion with the observation that "today would have been the 108th birthday of my grandfather and company founder Hans Liebherr."