Saubot highlights China rental concerns
By Euan Youdale31 October 2017
Speaking at the International Rental Conference Asia in Shanghai, Haulotte's COO Alexandre Saubot told the 460-strong audience, 'ownership is an old-fashioned value."
Saubot was referring to the growth in the access equipment rental sector in China. "People are not buying anymore. They are using and paying for that use."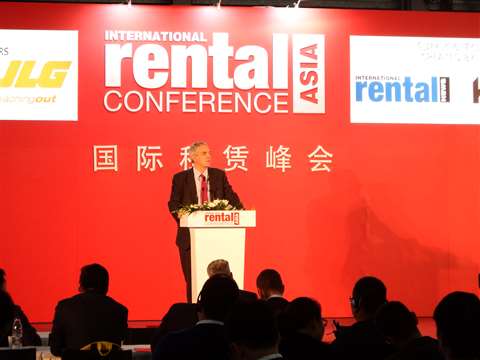 Furthermore Saubot said manufacturers and rental companies must work together to manage the pressure from customers to lower rental rates, among other concerns.
He explained that in a young access rental market like China rental rates are high as there is little competition to force them down and volume is not a problem because it is a small market.
The situation changes as a market like China sees a certain level of maturity; new manufacturers emerge and competition drives prices down, with some buyers becoming used to choosing the cheapest option over any other factor.
"We face a big challenge. Manufacturers are not able to drive costs of their machines down in the way that rental rates can be driven down."
Saubot adds, "Work has to be done between the manufacturer and rental company to educate the market and build up a communication channel between with the customer."
One way to do that is through sharing the data from machines working in the field to discover what requirements the end user has, and ultimately design machines that provide the optimum level of safety, productivity and efficiency.
"This is not easy as it can be difficult to get rental companies to open up. They say that this is their knowledge and they do not want to share it. So, you have to be clear about building a bright future together.
"If you are prepared to share, you are less selling a machine and more selling a solution. And it reduces the time to market – you do not want to wait two years until the option is built into the machine."