SC&RA virtual reality crane and rigging workshop show guide
By KHL Staff09 September 2020
The SC&RA Virtual Reality Crane & Rigging Workshop offers educational sessions, virtual networking and live Q&As.
In partnership with A1A Software, and sponsored in part by A1A Software, National Interstate Insurance Company and NBIS, SC&RA is bringing its 43rd annual Crane & Rigging Workshop to life, in the comfort of your own home.
Nobody could have predicted what a whirlwind of a year 2020 would be and bring with it. Now it is safe to say that "normal" no longer exists. More and more companies across many industries are transitioning from in-person to virtual events. The Specialized Carriers & Rigging Association is no exception and has managed the unpredictable without skipping a beat.
This year, SC&RA's annual Crane & Rigging Workshop will be held in a "first-of-its-kind" virtual reality format. Attendees will take part in virtual education sessions as well as experience the Exhibit Center virtually through VR glasses, or a personal computer.
In addition to maximising learning opportunities and providing a unique way to network, another huge benefit of this new virtual format is that most all the sessions will be available on-demand afterwards. Attendees can hand select which sessions to view without worrying about overlap. This virtual capability will allow attendees to personalise their own event experience.
A1A Software has been working to create a cutting edge virtual experience for the Exhibit Center, which features 40 exhibitors
Engaging subject matter
Some of the educational sessions attendees can sit in on include: Infrastructure Funding Status and Impact; Rigging & Lifting with Blocks; Safe and Fast: Rigging Heavy & Awkward Loads with Air Casters; Ask the Expert; Bull Rigging Project In-Action; Let B30 Work for You: Defend Against Personal Injury Actions. This year's Workshop delivers the largest educational offering ever, thanks to sponsors Lift Systems, Nelson Manufacturing, Riggers Manufacturing Company, and Rigging Gear Sales.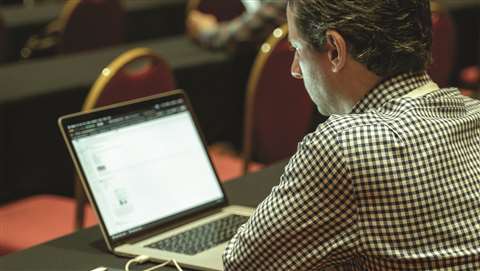 The virtual Exhibit Center, sponsored by Liebherr, Link-Belt Cranes, Manitowoc and Tadano, will be available throughout the entire two-day event
Two keynote speaker sessions kicking off each day of the event will focus on topics at the federal level. The opening session will feature a U.S. Senator speaking on infrastructure funding status and its potential impact on the industry. Thursday's opening speaker is Scott Ketcham, OSHA director of the Directorate of Construction, who will speak on the latest regulatory updates. Both sessions are sponsored by Doral Equipment Rental; Emery & Kerrigan; Enerpac; and Matcom.
The virtual Exhibit Center, sponsored by Liebherr, Link-Belt Cranes, Manitowoc, and Tadano, will be available throughout the entire two-day event. However, it's important to note that company representatives will only be in their digital booths from 1 to 3 p.m. (USA) on 16 September to interact with visitors and answer questions. Attendees will be able to stop and talk to 40 exhibitors as they "travel" around the virtual exhibit hall. A1A Software has been working tirelessly to create a cutting edge, virtual experience that is the next best thing to shaking hands with familiar faces, SC&RA said.
The following is a listing of the exhibitors at this years SC&RA Virtual Crane & Rigging Workshop.
A1A SOFTWARE, developer of 3D Lift Plan and iCraneTrax, now provides integrations between the programs. Data connectivity between lift planning and business management tools gives crane owners, fleet managers and safety departments greater control over job site intelligence to improve fleet allocation and manage customer and job documentation in one place. New web tools and mobile apps also make both 3D Lift Plan and iCraneTrax simpler to use in the field, for quicker decision making and less re-work at the office. In addition, this year's Crane & Rigging Workshop in Virtual Reality is brought to you in partnership with A1A Software. VR Conflux, the VR meetings platform, is built on the foundation of 3D Lift Vision, a virtual reality mode available in 3D Lift Plan. The virtual experience is perfect for conferences, networking, and exhibit centers. www.3dliftplan.com/default.aspx; www.icranetrax.com;www.vrconflux.com
Going on three decades, ALLIED INSURANCE BROKERS has been 100 percent focused on and dedicated to the crane, rigging and specialized transportation industry. With 250 plus crane and rigging clients nationwide, Allied serves as one of the industry's leading insurance and risk management partner through customized solutions that directly address the unique risks and needs of the businesses within this industry. Allied's vast experience and knowledge deliver additional resources, such as dedicated claims and contract review services, that support its client-partners at the highest level while its Risk Engineering Team provides unmatched safety and training tools that further reduce the occurrence of any claims activity. www.alliedinsbrokers.com
BIGFOOT CONSTRUCTION EQUIPMENT is an American family manufacturer that specializes in outrigger pads. Bigfoot is the only major manufacturer of both wood and custom composite and longest in-house manufacturer of custom composite. The company has veteran employees and ownership that stands behind the guaranteed Bigfoot outrigger pads. Bigfoot has a stock of standard sizes as well as custom outrigger pads to meet and exceed the strength, stability and safety needs of hard-working personnel around the world, the company said. Since building outrigger pads in-house since 1991, Bigfoot has had zero returns. www.outriggerpads.com
THE CROSBY GROUP is the world leader in rigging, lifting, load monitoring, mooring and material handling hardware and software. Crosby sets the standard for quality, training and technical expertise in the field, the company said.
www.thecrosbygroup.com, www.straightpoint.com, www.gunneboindustries.com
DEARBORN COMPANIES, supporting the heavy lift/heavy haul industries nationally, is a leading engineering service provider for ground condition surveys, ground stabilization design, rigging and shoring engineering and 3-D documentation of terrestrial and above-ground facilities utilizing laser scanning and UAV ("drone") data collection methods. Dearborn's project experience spans a wide variety of demanding and hostile work environments ranging from power generating stations, refineries and heavy manufacturing plants, to infrastructure (rail, roadways and airports) through healthcare and mission critical facilities. Dearborn's engineering expertise runs the gamut from carry-deck and spider crane placements inside and atop high-rise buildings, through RT, crawler and all-terrain crane deployments on construction sites and in urban (central business district) areas, to super-capacity crawler and ringer cranes (3,000 ton-plus) in industrial and power plant environments. www.DearbornCos.com
DICA is a family-owned and operated company that specializes in building high performance engineered outrigger pads, crane pads and cribbing blocks that are lightweight, easy to use and long-lasting. DICA products are proudly made in the USA, ASME B30.5 compliant and used by operators in 40-plus countries around the world. www.dicausa.com
DORAL EQUIPMENT RENTAL has the largest fleet of Versa-Lift forklifts in the world, along with forklift capabilities up to 120,000 pounds. Doral rents Versa-Lift forklifts, Rigger-Lift, Landoll PT40 and Hilman Traksporter products. All of these leading brands are built for power and versatility, perfect for rigging projects, the company said. A large fleet of equipment means more available units than competitors. In-house transportation ensures timely delivery across all North America (U.S. and Canada) and the most competitive pricing available. Rentals are available for short or long term anywhere in the country. www.doralequipmentrental.com
For more than thirty years, EMERY & KARRIGAN has been providing clients in the crane, rigging and specialized transportation industry with innovative insurance solutions tailored specifically to address the risks inherent in lifting and moving. Utilizing industry-inspired policy-form language, the latest in contract analysis and review techniques, and a company-wide sense of urgency, the team at Emery & Karrigan doesn't simply claim to be experts in crane and rigging insurance — they continually prove it. www.emerykarrigan.com
FAYMONVILLE is one of the biggest manufacturers of trailers for heavy-duty haulage and oversized cargo transportation. With more than 50 years in business, Faymonville provides customers optimal solutions and systems for any transport need outside the usual norms. The full product range encloses telescopic and steerable trailers, double drop trailers, dual lane trailers or modular trailers. The excellent manufacturing quality of the products are secured by high-tech production processes. www.faymonville.com
FLEET COST & CARE (FCC) is a fleet management software company serving businesses of all sizes in the heavy equipment industry. FCC's software enables companies to improve internal operations by providing a centralized system that speeds up invoicing, streamlines payroll and ensures safety and success. The innovative FCC solution eliminates needless duplicate data entry while maximizing fleet and personnel efficiency and profitability. www.fleetcostcare.com
GARROD HYDRAULICS specializes in the remanufacturing of hydraulic cylinders. Garrod works with the European manufacturer of the cylinders that are used on most larger capacity cranes. The company handles large cylinders in-house and chrome plating up to 46 feet in length. Garrod Hydraulics has been rebuilding hydraulic cylinders since 1978 and is ISO 9000 certified. www.garrod.com
GKS LIFTING AND MOVING SOLUTIONS is a supplier of high quality, German-made rigging equipment for more than 50 years. This includes hydraulic jacks with a capacity from 5 tons to 30 tons, dollies (2 to 200 tons), rotating dollies (2 to 12 tons) and remote operated, battery operated transport systems (ROBOT) for 10, 20 and 40 tons. All product has a five-year warranty (ROBOT, two years) and ships within 24 hours from Springfield, OH. www.gksweb.com
GLOBAL EXECUTIVE SOLUTIONS GROUP specializes in providing talent that works with cranes and specialty lift systems as well as specialized transportation to include flat bed, heavy haul, over dimensional, Goldhofers, SPMTs and rail cars. Whether it is for positions in senior management, operations, sales and marketing, safety, engineering, information technology, accounting or human resources, they have the resources. www.globalesg.com
THE GOLDHOFER GROUP has about 800 employees designing and producing practical heavy haul and special transport solutions for the most challenging logistics requirements. The beginnings of the company go all the way back to 1705. The Transport Technology division delivers user-oriented haulage solutions and a full range of dedicated accessories for on- and off-road operations with payloads of up to 15,000 tons and more, plus regional modifications tailored to the local infrastructure and market requirements. In addition to trailers and semi-trailers for the construction and haulage industries, Goldhofer also supplies transport systems for the wind power industry and a range of heavy-duty combinations with and without hydrostatic drive for transporting oversized and heavy cargos. www.goldhofer.com
HYDRA-SLIDE exists to empower its customers to get work done more safely, efficiently and cost effectively than ever before. Which is why, using an engineering-first, field-forward approach to product design and development, Hydra-Slide has created the world's simplest, most usable hydraulic skidding systems, the company said. They are built to last, engineered for field conditions and designed with the rigger in mind. Hydra-Slide also manufactures specialized rigging equipment, including Hydra-Pac Synchronous power packs, turntables, alignment shoes and climbing jacks. www.hydra-slide.com
J&R ENGINEERING, located in Mukwonago, WI, is the manufacturer of the Lift-N-Lock hydraulic boom gantry, Delta Lift rubber-tired gantry, Lift-N-Lock Crawler Transporter and other specialized lifting equipment serving the machinery moving, industrial material handling and nuclear industries. www.jrengco.com
KHL GROUP is a diversified media company and the leading supplier of international construction and power information around the world. Using its market-leading magazine brands, KHL has expanded into digital magazines, e-newsletters, directories, podcasts, social media, book publishing, direct mail, list rental, exhibitions, virtual events, conferences and contract publishing. KHL publishes American Cranes & Transport and International Cranes and Specialized Transport, the official magazines of the SC&RA. www.khl.com, www.americancranesandtransport.com
LANDOLL CO. (the original traveling axle creator) manufactures, designs, fabricates, finishes, and markets heavy equipment trailers and a precision telehandler (operable with remote). This vertically integrated and diversified Kansas company additionally produces agricultural, OEM, government and specialized narrow and very narrow aisle forklifts. To check out the Landoll full line of traveling axles, traveling tails, detachable trailers, bottom dumps, car trailers, tags, telehandler and other specialty products visit www.landoll.com
LIEBHERR USA has developed a large, continually evolving range of sophisticated products and services for more than 60 years. Practical and seasoned machines, coupled with proven engineering and high quality, ensure customer benefits in all product areas, the company said. Liebherr offers a comprehensive selection of mobile and crawler cranes with telescopic and lattice booms, as well as rough terrain cranes, duty cycle crawler cranes and piling and drilling rigs. Liebherr also manufactures one of the widest ranges of fast-erecting and top-slewing tower cranes in the world. www.liebherr.com
LINK-BELT CRANES designs, manufactures, sells and supports telescopic boom and lattice boom cranes for the construction industry worldwide. Link-Belt's ever-evolving product line includes telescopic crawler, rough terrain, lattice crawler, hydraulic truck, lattice truck and all-terrain cranes. It has a strong network of domestic and international crane distributors that provide full sales and service support. www.linkbelt.com
THE MANITOWOC COMPANY, INC. is recognized globally as a premier innovator and manufacturer of crawler cranes, tower cranes and mobile cranes for the construction industry. Manitowoc's brand portfolio of Grove, Manitowoc, National Crane, Potain and Shuttlelift cranes provides the most comprehensive range of lifting solutions in the marketplace. Manitowoc Crane Care serves customers with extensive aftermarket service and Manitowoc Finance offers a full range of financing solutions in partnership with the industry-leading dealer channel support. www.manitowoc.com
NATIONAL INTERSTATE INSURANCE COMPANY, a member of Great American Insurance Group, is a leading provider of specialty insurance with a focus on the crane, rigging and specialized carriers' industry. As an endorsed market partner, National Interstate offers the SC&RA membership a range of products including guaranteed cost and deductible programs, as well as innovative alternative risk transfer options. Established in 1989, National Interstate provides customers with customizable product offerings, exceptional service, aggressive claims handling and proactive risk management services. National Interstate and its insurance subsidiaries are rated "A+" (Superior) by A.M. Best Company. www.natl.com
NBIS is the premier provider of insurance and risk management for the crane, rigging and specialized transport industries, proudly serving SC&RA members as an endorsed property and casualty insurance provider for over 20 years. Combining insurance coverage, innovative risk management solutions and driven claims experts. NBIS offers unparalleled contract management, preventative risk analysis and planning before claims handling is necessary. NBIS provides coverage from "A+" (Superior) by A.M. Best Company and licensed in all 50 states. www.nbis.com
NELSON TRAILERS is dedicated to the design and fabrication of unique application trailers. For the crane and rigging industry, Nelson Manufacturing Company specializes in helping crane owner/operators move large equipment. Nelson Manufacturing Company's boom launch trailer is custom designed to fit the larger hydraulic truck and all terrain cranes by removing and cradling the boom for easy transportation to the work site. www.nelsontrailers.com
PEERLESS INDUSTRIAL GROUP has been offering best-in-class products, innovation and custom solutions to a diverse industrial and consumer customer base for over 100 years. Peerless utilizes their exceptional design, engineering, manufacturing, and quality teams, to develop products for the wide variety of markets they serve. Peerless is part of KITO Corporation's global network providing customers access to cargo control, traction, overhead lifting, material handling, marine and hardware products. www.peerlesschain.com
ASC/PYTHON AMERICA ropes are made in Germany including all wires and strands. Some of the company's new Compac 35 Plus true nonrotating ropes, from 16 to 32 millimeters, are available and in stock for all truck, mobile and crawler cranes. Additionally, the company's continuous training courses are provided throughout the country for proper installation of crane ropes. www.ascindustries.com
SCHEUERLE FAHRZEUGFABRIK GMBH transporters are recognized across the world for their advanced technology and special product quality. Reliability in daily use, high load capacity and a long service life make the vehicles a very important component of modern transport operations. Many years of technical know-how allow Scheuerle, Nicolas and Kamag to develop and produce transporters as SPMT, modular platform trailers, industrial lift and shipyard transporters as well as vehicles for special applications. www.scheuerle.com
The SLINGMAX RIGGING SOLUTIONS organization consists of 37 independent companies, each exclusively licensed, trained and certified to manufacture, repair and test Slingmax products. Strategically located in 12 countries, Slingmax currently holds over 50 patents and 100 trademarks worldwide, which includes Smart Sling Overload Monitoring Technology, the Check-Fast Inspection System and Rifled Cover Technology. Slingmax is best known for the Twin-Path roundsling. www.slingmax.com,www.smartsling.com
THE TADANO GROUP is a leading manufacturer of all terrain, rough terrain, teleboom and lattice boom crawler cranes under the Tadano, Tadano Mantis, and Demag brands. With a proven reputation for safety, quality, and efficiency, the Tadano Group brings unparalleled reliability and innovation to the industry through its robust and diverse product line. Tadano puts the right tools in the hands of industry professionals to enhance their lifting efficiencies on a wide range of projects. www.tadanoamerica.com
TORQUER LIFTING SOLUTIONS is a manufacturer of innovative no-touch crane load control devices aimed at improving the safety and efficiency of crane and rigging workers. The HALO (Hands-free Autonomous Load Orientation) device permits full 360-degree rotation with start, stop, and reverse capabilities for loads up to 25-tons by using a simple hand-held remote. With a control range of several thousand feet, no tag lines are needed, and personnel are kept away from the moving load. HALO's are immediately available for rent or sale. The company is based in Denver, CO and Inverness, Scotland. www.torquer.com
TALBERT MANUFACTURING manufactures a variety of heavy haul trailers and specialized transportation equipment. Located in Indiana, Talbert has been serving the transportation industry since 1938 covering commercial, government, aerospace and energy applications as well as in-plant material handling movers, manufacturing systems and processors. Talbert products include utility and tag-a-long trailers, tilt deck trailers, hydraulic slide axle/hydraulic tail trailers, low bed heavy haul trailers, extendible trailers (flats, step decks, lowbeds, hydraulic necks), spread axle trailers (East and West coast styles) and multi-axle configurations. www.talbertmfg.com
TRAIL-EZE TRAILERS builds a variety of standard and specialized equipment trailers to help with all transportation needs, which is a result of 50 years of experience designing and producing the best the industry has to offer. Trail-Eze is a custom trailer manufacturer with a complete line of rear-loading hydraulic tail and slide axle trailers, front-loading folding goose neck and hydraulic detach trailers and high capacity multi-axle trailers. For great craftmanship, lasting durability and promises kept, look to Trail-Eze. www.traileze.com
TRAIL KING INDUSTRIES, North America's largest specialized trailer manufacturer, has been a supporting member of the SC&RA for over 35 years. Trail King engineers and manufactures dual-lane transport systems, hydraulic Schnable neck, blade hauling and custom multi-axle trailers for the wind energy industry and specialized hauling markets. Trail King strives to lead the way in the trailer industry, delivering the best trailers in the world for its customers' success. www.trailking.com
TRANSMASTER TRAILERS/MASTER SOLUTIONS, designs, engineers and manufactures various types of trailers. The company offers a range of specialized trailers, such as specialized multi-axle steering dollies, jeeps, oil field heavy duty step deck trailers, low boy detachable gooseneck trailers, counterweight trailers, perimeter frame trailers, extendable trailers, wind trailers and special high capacity steering-capable trailers. With Transmaster's engineering capabilities, they can design and build customized complex trailer systems to meet a customers' needs. www.transmastertrailers.com
With over 30 years of experience in the marine and specialized transportation industries, TRANSPORT SYSTEMS AND PRODUCTS, is a go-to source for shipyard transporters from the world leading TII Group including Scheuerle, Nicolas and Kamag. TSP has products for a variety of applications including commercial marine, shipbuilding, energy, aerospace, fabrication and heavy haul. TSP also offers service, maintenance parts and accessories for all TII Products, as well as trailer movers, jacks and dollies from Trailer Valet, Marine Electronics, Grundens Foul Weather Gear, XTRATUF Footwear and Safety Equipment. www.tspmarine.com
TRANSWORLD MANUFACTURING has been specializing in street legal crane transportation since 1946. The company was the first to introduce the direct-to-boom dolly mount and the articulating boom dolly. Transworld's market understanding comes from its history as a crane owner. The company is constantly improving its crane accessory products to help customers become safer and more efficient. Transworld specializes in boom dollies, spreader bars and custom hauling solutions. www.twm-usa.com
U.S. CARGO CONTROL is the source for equipment for hauling, rigging, towing, lifting and moving all kinds of cargo. Specializing in the cargo control, rigging and lifting, and moving supplies industries, they offer thousands of products online and welcome custom orders and special requests. In-house manufacturing capabilities include custom tie-down straps, lifting slings, flatbed tarps and cargo nets. Located in the Midwest, they offer superior customer service,a knowledgeable sales team, fast delivery and free shipping on orders over $199. www.uscargocontrol.com
VISUAL DISPATCH by Senarc Systems is a dispatching software solution for the crane and rigging industry. Capabilities include quoting, scheduling, dispatching, eTickets, safety, payroll, invoicing, accounting integration, preventive maintenance, and extensive reporting. Over the years Visual Dispatch has advanced as a powerful tool to handle the growing needs of any size company and the requirements of the industry. www.senarc.com, www.visualdispatch.com
WOLFFKRAN INC. stands for over 100 years of competence in the design and construction of tower cranes made in Germany. Founded in 1854, the company soon specialized in the production of lifting equipment and developed the world's first fast-assembly top-slewing tower crane in 1913. Today, 800 employees around the world ensure that the innovation process continues and that the brand is known for a comprehensive range of trolley jib and luffing jib cranes. Wolffkran, Inc has locations in NY and CA offering sales, service, parts and engineering support for the U.S. and Canada. www.wolffkran.com
WRIGHTPLAN INCORPORATED is a leader in developing dynamic and customized fleet management solutions for the specialized transportation industry. Easy-to-use and accessible from both the office and field, WrightPlan helps crane & rigging, heavy equipment and millwright companies of all sizes, improve workflow by bridging the gap between owner and asset. A growing suite of advanced online tools enables companies to become more efficient and precise when creating estimates; scheduling, dispatching and tracking jobs; and maintaining detailed customer lists. Time saved on these tasks matters – time that could be used for more sales opportunities, product enhancements and customer relations. www.wrightplan.com