Scaffolding International: Upping standards
By Euan Youdale11 January 2017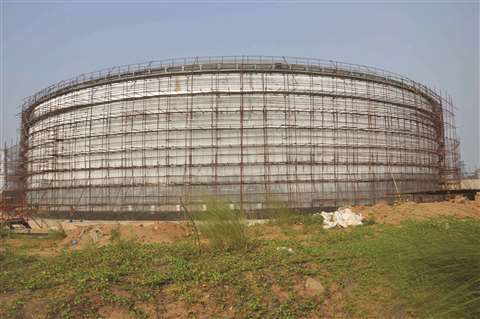 Tighter project completion schedules, a dearth in skilled manpower, safety requirements and the necessity of saving construction and maintenance costs for infrastructure projects across is driving demand of newer scaffolding solutions in the Indian market. Large numbers of Indian and foreign manufacturers are looking to meet the demand through newer solutions in the highly competitive market.
To ensure products stand up to repetitive use and suit design requirements of the contractors, based on construction requirements and site conditions, producers are strengthening their manufacturing, marketing and design support capabilities.
Indian aerial work platform rental company, mobile scaffolding manufacturer and distributor of truck mounted platforms Mtandt has entered into an exclusive distribution tie-up with Swedish Aardwolf Monzon in mid-2016 to promote its Aardolf Quickfit scaffolding solutions in the Indian market. It was launched during Bauma Conexpo India 2016. "The CE certified scaffolding solution based on ring lock system can fit into infinite combinations, making it convenient and time savings to install than conventional solutions. Being toolless, the scaffolding solutions are easy to assemble and disassemble. The aluminum product will be immune to corrosion, thereby delivering total life cycle costs to price sensitive Indian customers. We may look to manufacture the Quickfit solutions at our manufacturing facility at Ghaziabad," says Rakesh Modi, managing director, Mtandt Group. Mtandt manufactures stairway way, aviation docking and cantilever design scaffolding at its facility at Ghaziabad in North India, near New Delhi, India's capital state.
There is growing demand for scaffolding with more ruggedness and better quality, like anticorrosion products, from contractors involved in high rise, infrastructure and core industrial construction and maintenance projects, like major Indian construction firms L&T and Simplex. Demand for rugged solutions is mainly due to increased variation in live loads, as the work takes place in shifts, especially in metro railway, bridge, refineries and cement plants construction and maintenance projects.
Mudit Raniwala, senior vice president at Technocraft Industries India, explains, "To meet the contractors' demand, we source hot rolled coils, the raw materials for our scaffolding solutions, from primary Indian steel producers like JSW and Tata Steel. We roll out high precision tubes based on the requirements of size and thickness of the contractors. We have put up a state of the art automated welding plant to carry out seamless welding at our five plants in Mumbai.
"Our quality certifications include, welding certification as per EN 1090 from SLV Germany, welding standards as per AWS D1/D1.1M, Techlok System tested as per EN 12810/12811 at Oxford University, UK. We have got certifications on inward material testing, coils identified with heat, periodic calibration of gauges, testing of components and systems."
Product applications
Technocraft exports its scaffolding and formwork solutions to Australia, Middle East, Africa and North America and has very recently launched the Mach range of scaffolding and formwork products. "The scaffolding can be assembled and disassembled with ease, safety, speed and total safety. The new systems are easier to adapt, faster to use and less laborious. What normally takes 50 people five days to complete, Mach can do it in two days with 10 people, enabling the contractor to save on labour, time and costs. Such products are available with only high-end European brands, and we are making them in India at reasonable costs," says Mr Raniwala.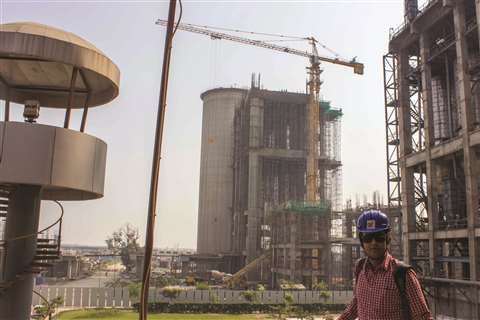 Technocraft has recently finalised an order for a 30,000 square meter slab decking system, one of the biggest ordersin India, from a local contracting company in South India. The company has set up an institute for training for construction site workers. It runs a curriculum with NTTF for training students on scaffolding and tool development.
"Based on growing safety and concerns and rigidity of the scaffolding structures, for structures in areas with high wind pressure, contractors are looking for newer solutions," says Rahul Bharadwaj, manager, technical operations, Peri (India) Private, scaffolding and formwork.
"Based on German design, we have introduced Peri Rosset gravity lock scaffolding systems. The modular scaffolding solution does not require hammers for locking, causing less damage and abrasion to the scaffolding. For high rise projects, we have introduced hand rails and peripheral edge protection systems."
Peri Rosset gravity lock scaffolding is being used at 64-storey Kolkata 42, the highest residential tower in West Bengal Eastern India. They are also being used by Siemens for the construction of Yamuna Vihar metro station in Delhi, and for Megna Ghat Power station in Bangladesh by Doosan and Skoda.
Scaffolding towers have been supplied by Peri for construction of Shakurpur metro station at Delhi Metro Railway Corporation (DMRC) in West Delhi to support its 16 m main beam reinforced structure of 1.2 m width, weighing 30 tonnes for project contractor L&T. The reinforced structure, composed of eight tonnes of steel and 22 tonnes of concrete. Three scaffolding towers also supported 8m cross beam sections in the station project. The weight of some cross beam section was 50 tonnes in the stations in the DMRC phase-3 project.
Peri also supplied scaffolding towers of 12m, 13m and 22m during the construction of DMRC's phase-2 project in the recent past. The highest scaffolding tower assembled was 26m for setting up piers.
"For producing tubes with appropriate quality, we source steel from primary producers, categorise them for producing the required scaffolding solutions from the contractors," says Mr Mohammad Yusuf, director technical, EMD India, Indian scaffolding manufacturing company.
EMD has bagged a major order from South India based contractor to supply ring lock and cup lock scaffolding solutions. EMD India has a fully-owned subsidiary, EMD Project India limited. It provides erection and dismantling support services, safety checks, maintenance and training support services for scaffolding solutions. EMD has supplied its scaffolding solutions to National Thermal Power Corporation (NTPC), Bharat Forge, Ultra Tech Cement and Tata Steel for construction and maintenance of their plants.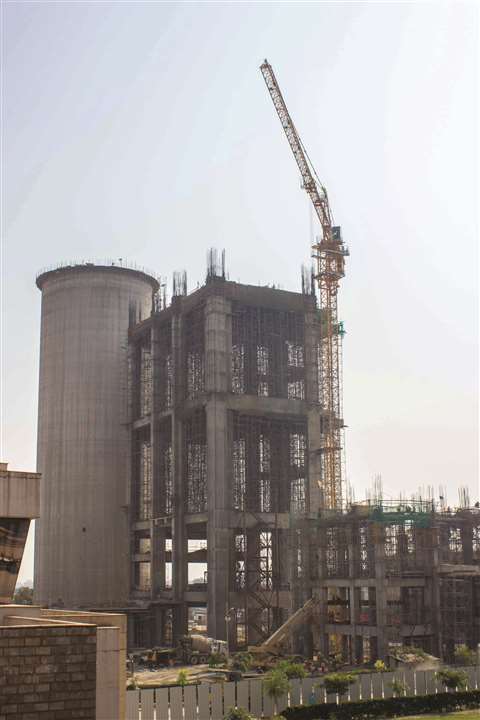 Design requirements
While there are requirements for scaffolding solutions with enhanced longevity, led by direct commercial benefits, "There is increased preference for aluminum scaffolding in India among all sections of contractors. This is because the products are lighter and anticorrosive compared to MS steel. Being lighter, the scaffolding sections are easier and faster to handle and to stock. Aluminum scaffolding can also be retrofitted for number of operations. One of the vital reason for its preference is that it generates high scrap value for the contractors," says Vipun Rai, general manager – marketing, BSL Scaffolding India. The India, Delhi-based scaffolding manufacturer produces MS steel and aluminum scaffolding. It has supplied scaffolding to NTPC, Bharat Heavy Electricals and National Aluminum Corporation for maintenance of their plants. It is also a major exporter of scaffoldings.
There is increased requirement of design support from contractors involved in general and industrial infrastructure construction and maintenance in India from scaffolding producers and service providers. The need for design support is mainly due to growing safety concerns for projects. In recognition, a majority of the main scaffolding manufacturers have set up teams of structural engineers. According to Ravindra Nar, projects manager, Technocraft, "We have set up a full-blown team of structural engineers and draftsmen. Based on the structural and site condition requirements of the client, wind load, theoretical and incidental load calculations are done."