Schindler releases updates for self-climbing lift system
By Catrin Jones28 June 2022
Schindler has announced several updates for its established Schindler Climb Lift, a self-climbing, vertical transportation system.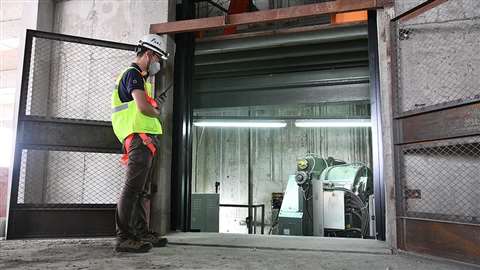 Schindler has extended the compatibility of the Schindler 5500, in addition to the larger Schindler 7000. By offering Climb Lift with the Schindler 5500, the product is now said to be suitable for smaller buildings of 150m and below.
The company has also introduced a new design option enabling integration with the building's formwork during construction. By integrating the lifting platform and crash deck of Schindler Climb Lift with the formwork, Schindler says that the entire system stays closer to the top of the building as construction advances. This integrated design also reduces the components and other materials in Schindler Climb Lift, while 'jumping' (moving from one floor to the next) is faster and easier.
Additionally, Schindler has developed a Cost Savings Calculator to show the impact on overall cost that faster movement of people and goods has. The interactive tool allows the operator to input a variety of parameters (including the number of people on site, number of trips per day, construction time, and manpower cost) and see what savings can be made.
Stefan Weber, head of large projects operations at Schindler, said, "Our original Schindler Climb Lift is over 20 years old, but during that time we've introduced several improvements and it keeps getting better. The data we've published – taken from real-world projects – show the efficiency gains our Schindler Climb Lift can generate."