Screen Machine introduces 612T tracked trommel
By Lindsay Gale14 April 2009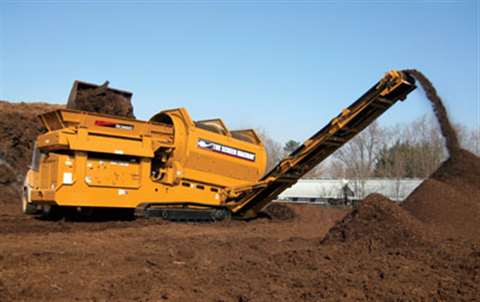 US crushing and screening plant manufacturer Screen Machine has added the 612T tracked mobile trommel to its product range. Designed for use with loaders with capacities from 0.75 to 2.3 cubic meters (1 to 3 cubic yards), the machine features a 1.8 by 3.6 m (6 by 12 ft) trommel drum that provides 21 square meters (225 square feet) of trommel area. Power comes from an 84 hp (62.6 kW) Yanmar Tier III diesel with an electric throttle.
Screen Machine's rapid cable/hinge lock design allows quick screen replacement and maintenance. Other features on the 612T include a heavy-duty drum with triangular tumbling paddles and the ability to load directly into tracks from its 3.8 m (12.5 ft) discharge height side-stacking conveyor.
The machine also offers a large capacity, unrestricted hopper with a feed height of 2.7 m (9 ft), self cleaning brushes that the company says maintain excellent screen processing performance and a 265 litre (70 gallon) fuel tank that allows continuous running for more than 16 hours before refuelling is required.