Mobile screening is a global industry, but one which is disproportionately massive in Northern Ireland, even more so after two recent major acquisitions of manufacturers based in that region of the United Kingdom.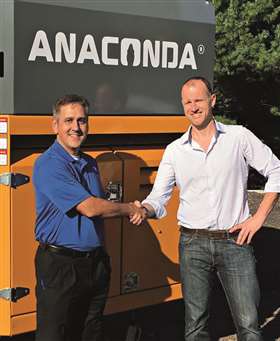 The first – and most recent – is McLanahan's acquisition of Anaconda Equipment, which saw the final handshake take place in January, after a close and successful working relationship between the two companies began in 2017 when a distribution agreement was signed.
When the companies announced the move they cited the fact that "their values and business styles were closely aligned" as a key factor in the acquisition.
Founded in 2008 by Alistair Forsyth and Martin Quinn, Anaconda has spent the past decade developing its extensive range of mobile tracked equipment.
This includes scalping, screening, recycling and conveying equipment, and in that time a global dealer network has sold over 1,200 units in more than 50 countries across six continents.
A side note worth pointing out is that Anaconda has also expanded to include a sales and distribution office in Massachusetts, USA.
On the acquisition, Sean McLanahan, CEO of McLanahan Corporation, said: "We looked into growing our line of track equipment in several ways.
"When it came down to it, we saw in Anaconda a company that was well established, had great employees and dealers, and had many of the same values and business principles as we do. Adding them to our family of companies seemed like a clear fit."
The acquisition has not meant a complete overhaul of the Anaconda brand, though – often the case with the buying company looking to establish its name in new territories. Instead, Anaconda has continued to operate under its original brand, along with its established dealer network continuing to the support the company's customers around the globe. Anaconda's group president and managing director, Alistair Forsyth, has also kept his position in the company.
Robust and reliable
The company now offers two types of mobile screens – a line of wheeled equipment sold under the McLanahan brand and truck-mounted equipment sold under the Anaconda name.
The latest product is the Anaconda-branded FSL100 Scalping Screen, which is said to be one of the most robust and reliable products of its type on the market.
It comes with a double deck vibrating screen and the longest stockpiling conveyor available. It can be shipped worldwide in a 1 m (40 in) container, helping to keep shipping costs down, too.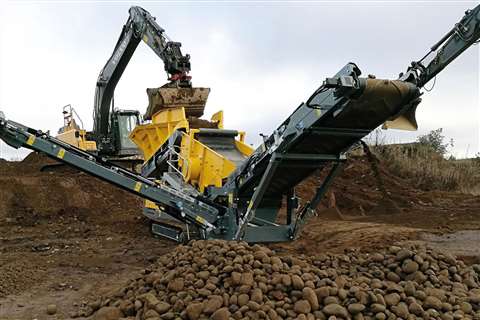 Keeping competition fierce in the market, another major acquisition has occurred in the past year. This is the buyout of Northern Ireland's Maximus by Rubble Master.
Indeed, it has been a year since a majority shareholder agreement was reached between the two companies, and Rubble Master went on to boost recruitment at the company, before announcing a 100% ownership in the company in November last year. The companies combined have gone on to produce the RM HS3500M mobile screen product, followed by the production of three models in the shape of the HS5000M, HS7500M and HS11000M.
The models were designed as pre-screens in the RM mobile series, which also includes post-screens and mesh deck versions.
Rubble Master, though, is a global-reaching company, and has recently continued its expansion with increased investment in the growing Chinese market, including sales subsidiary Tianjin Rubble Master Technology.
The local team of five – which has already sold and put into operation its first machines – will serve Chinese Rubble Master's customers on site together with the 10 established local sales partners.
Sweden-headquartered manufacturer Sandvik offers a range of mobile screens, ranging in size from 27 to 34 t.
Its newest – and largest – is its QA451 model, which the company claims to have been the world's first triple deck doublescreen, offering unrivalled control.
The machine was developed through years of research and customer feedback and offers massive stockpiling capabilities for increased economics.
The QA451 has two inclined screenboxes, measuring 3 x 1.5 m (9 x 5 ft). It also has a large feed hopper and extended range of tracked crushers, and operators can also optimise the feeding position to upstream units with the fourth hydraulic conveyor.
As for user efficiency, the model has sequential start-up to make operation easier, it has full radio control as standard and is also said to have been designed for optimum fuel economy.
The engine offers an output of 74.5 kW.
In the past nine months, Sandvik has also launched a new scalper, the QE342 – an evolution of its QE341. It comes with a host of updates, including an open-scalping area for delivering higher rates of production, the company claims.
The machine's design and attributes means that the production of even materials facilitated through a wear-resistant steel apron feeder, with huge stockpiling capability and over-wide conveyors that help to maximise delivery.
Terex Finlay is another big player in the mobile screening market, and it has a brand-new model set to be showcased at the Bauma exhibition in Germany this month.
Named the 883+ triple shaft screener, the company's mobile heavy-duty screener features a triple shaft screenbox that is said to be ideal for working in dry and sticky applications including quarry, mining, sand, gravel, construction and demolition debris and recycling.
The triple shaft design of its new screenbox employs an oval motion stroke to generate an aggressive screening action, reducing plugging and blinding over the screen decks to provide increased output.
Distribution rights
Last year, Terex Finlay confirmed that the Molson Group had acquired Finlay Plant (UK) and its Finlay Group subsidiary and associated companies.
Through the acquisition, Molson has successfully secured the distribution rights for the complete range of Terex Finlay products – including the 883+ – for England, Wales and Channel Islands.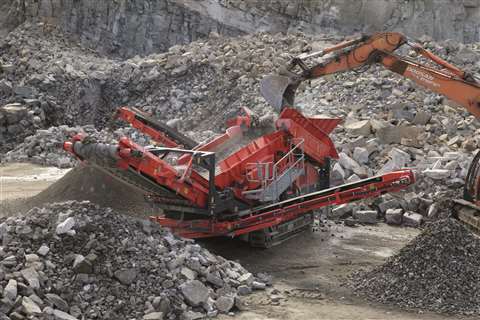 On the takeover, Terex Materials Processing president, Kieran Hegarty, said: "The Molson Group are already a valued Terex partner, with distribution rights for other Terex lines in England and Wales.
"This acquisition allows us to strengthen our relationship with this vibrant and progressive business. Terex's continued success significantly relies on working in partnership with professional and customer-focused dealers. Molson have proved to be just that in the past and we look forward to growing in the future."
Finally, mobile screening giant McCloskey has revealed it will be at Bauma with a brand-new, under-the-wraps product.
The company has revealed very little about the product it will launch on 8 April, but says it is a groundbreaking model that will be on show at the stand.
McCloskey currently offers 10 mobile screening products, boasting the S series, R series and three unique models for job-specific needs. Its current biggest is the S190, which claims to push industry standards with an innovative 50 x 12.7 cm (20 x 5 in) mobile vibratory screening plant.
The size of the new model is yet to be revealed but expect new features and designs on the company's stand at the major construction equipment exhibition.
This article first appeared in the April 2019 issue of Demolition & Recycling International. To see the full article, including additional images, or to register to receive the magazine on a regular basis, please visit www.khl.com/subscriptions