Seattle crane collapse inquiry
By Christian Shelton30 April 2019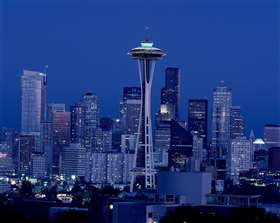 Five companies are being questioned following the collapse of a tower crane in Seattle
Five companies are being formally questioned by the Washington Department of Labor and Industries (L&I) following the collapse of a tower crane in Seattle, on the West Coast of the United States, on Saturday 27 April, 2019.
Four people were killed and another four injured when the crane collapsed as it was being dismantled in the South Lake Union district of the city.
The five companies being questioned are: main contractor GLY Construction; and sub contractors Northwest Tower Crane Service Inc; Omega Rigging and Machinery Moving Inc; crane owner Morrow Equipment Co; and Seaburg Construction Corp, which employed the tower crane operator.
In a written statement, GLY Construction commented, "GLY and its sub-contractors involved with this tower crane accident are doing everything we can to investigate the incident. We are co-operating fully with investigators and assisting the local authorities. At this early stage of the investigation, we have no further details."