Second LHM 550 for Tilbury Docks
By Laura Hatton27 November 2015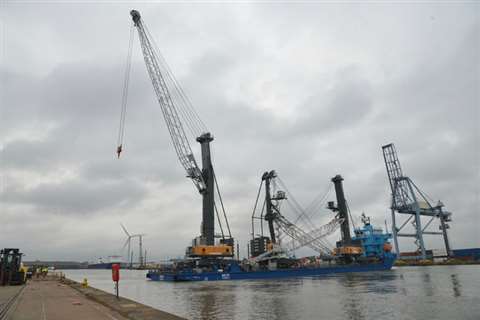 Forth Ports in the UK has purchased a second Liebherr LHM 550 harbour mobile crane from Liebherr Maritime Cranes for the Port of Tilbury in England.
The LHM 550 is manufactured at the Liebherr Maritime Crane factory in Rostock, north Germany. It has a safe working load of 144 tonnes in its heavy lift capacity, 55 metre boom and a working height of 22 m. It can be used to service post-Panamax-sized container vessels and will serve the wide range of cargo ships entering the port. In addition, the LHM 550 has a maximum hook height of 45 m above the quay and the boom can be lowered to 15 m below quay. It has variable rope speed between 0 and 120 metres a minute.
To prevent dust infiltration, it will have an air overpressure system, which allows air to be drawn in through the top of the tower before being forced down into the slewing platform. The width of the supporting base can also be reduced, allowing it to work in narrower areas of the quay. Other added features include a powered rotating hook block, a 20 cubic metre Verstegen mechanical grab and Liebherr's Lidat system.
Robert Alexander, Liebherr Great Britain and Ireland sales manager, said, "We are proud to be working with the Port of Tilbury. This new purchase further cements an excellent working relationship and extends our portfolio of cranes at the port. We wish the port every success as they expand their operations and we look forward to working with them again in the future."