Second life for Manitowoc 4600
By Laura Hatton06 August 2015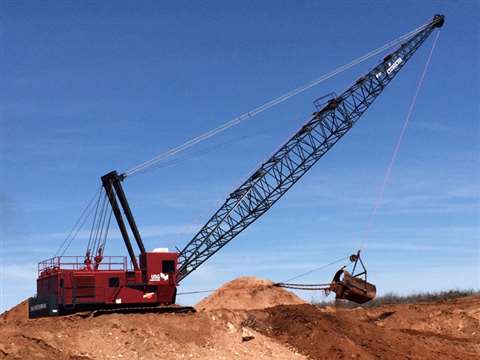 H&E Equipment Services (H&E) has completed remanufacturing a Manitowoc 4600 dragline crawler crane for United States Gypsum Company, based in Chicago, USA.
The project was carried out at the company's new remanufacturing and structural repair centre in Belle Chasse, Louisiana in the USA.
United States Gypsum Company's manufacturing plant in Sweetwater, Texas, had been using a Manitowoc 4600 for mining raw gypsum. The crane needed replacing; however, the Manitowoc 4600 is no longer in production, so United States Gypsum called on H&E chose to find a second Manitowoc 4600 as a core machine for the remanufacturing process.
In addition to the complete remanufacturing of the 4600, H&E installed a new air conditioning unit, a dual-chemical fire-suppression system, updated hand rails, adjustable access ladders, fall prevention guards, bail service platforms and maintenance access safety steps. Side mirrors, a full front cab guard and three CCVC cameras were also installed. Once complete, the 4600 had a custom, chemical-resistant paint finish.
Jeff Grimland, USG plant manager for Sweetwater, said, "Being sustainable across the lifecycle of our products and operations is an important goal at USG. We actively look for opportunities to reduce, reuse, or recycle resources when possible, and the remanufacturing of the dragline crawler is a unique example of how we are continuously looking for ways to minimize our impact on the environment."
Tony Gugliuzza, H&E Belle Chasse crane remanufacturing manager, said, "This crane is for all practical purposes a new machine – structurally, mechanically and cosmetically. Our goal at H&E is to ensure each Encore remanufactured crane will provide the owner with an entire new crane lifecycle of dependable service. Our 40 years of crane remanufacturing experience, coupled with support from the Manitowoc Encore team, allows us to provide remanufacturing as a cost-effective alternative and valuable service to our customers. We are very proud of our employees and the quality of their work, as evidenced by the final results in USG's 4600 crane."