Seeger invests with Steigers
By Euan Youdale27 February 2017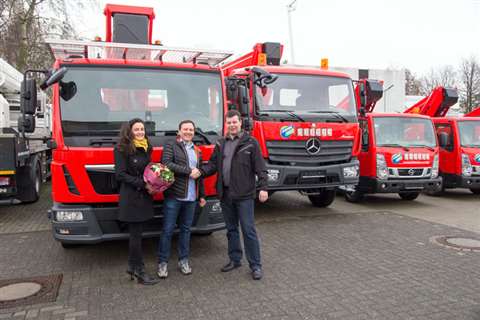 As part of its replacement and expansion plans, German rental company Seeger Arbeitsbühnen has taken delivery of 13 Steiger truck mounts, with an order value of almost €1.7 million. In the 3.5 tonne segment, a total of seven Steiger TB 220 models and four Stieger TB 270 will complement Seeger's existing rental fleet, along with a new Steiger T 330. With its 33 m working height, on a 7.49 tonne truck acts as a link between large-scale trucks.
The TBR 220 S7 is mounted on a 7.49 tonne Mercedes Benz Atego all-wheel drive chassis. The "S" in this model name stands for senkrecht, which is German for vertical. The four hydraulic support cylinders are attached directly to the base frame of the vehicle, meaning it is stabilised within the contours of the vehicle.
Karlheinz Seeger, from Seeger Arbeitsbühnen, said, "We have a wide range of Ruthmann Steiger models in our fleet. They are perfectly suited to the needs of our rental customers. We have had a harmonious working relationship with Ruthmann for over 20 years. I give them top marks for collaboration, quality advice, performance capabilities of their products, and for their well-organized after-sales service."
The Seeger has been successful in the rental business since 1994. The company has more than 700 machines in its fleet including: articulating boom lifts, scissor lifts, trailer-mounted work platforms, and forklifts. All are equipped with the latest, state-of-the-art technology. Seeger belongs to the nationwide System Lift network, comprised of over 70 mid-sized equipment rental companies and more than 10600 platforms.