Selwood-Finning collaboration
By Joe Malone13 September 2018
UK pump and plant rental company Selwood has announced a major strategic partnership with Finning UK & Ireland.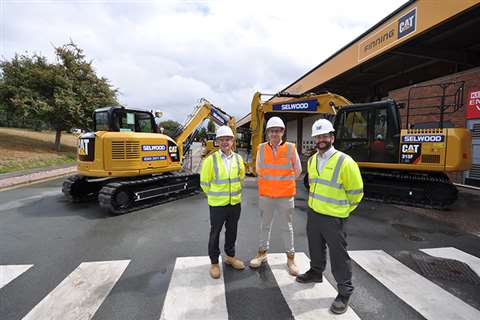 The partnership will see Selwood add Caterpillar machines to its fleet for the first-ever time. The first order placed by Selwood is for four Cat 313FL GC and eight Cat 308 excavators, which will be delivered into Selwood Bristol and Cardiff.
The other Selwood branches will receive these machines in due course and, as part of the agreement, Finning will provide equipment training to Selwood engineers and sales staff.
The machines will also be connected through the Cat Product Link system, which will allow Selwood to monitor machine performance, utilisation and location information, sharing data with customers to help reduce idle times, emissions and fuel costs.
Commenting on the partnership, Richard Bright, chief operating officer at Selwood, said, "Before we made the move to Cat we spoke to our customers to get their views and preferences when it comes to hiring machines. This allowed us to make a much more informed decision with our first ever Cat fleet purchase.
"For us, this partnership is much more than just the purchase of machines. It is a strategic move to support our ambitious plans for growth, while enhancing the service we offer customers, allowing us to further differentiate our offering in an ever-changing market.