Sennebogen 640 completes St Petersburg public works
By Ian Vallely06 February 2017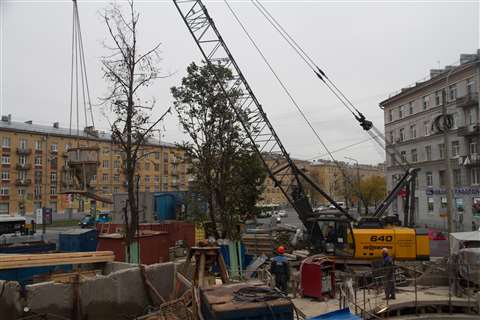 VodoKanalStroy, which provides water and sewer services to the millions of residents of St Petersburg, has several Sennebogen machines in use for the wide range of public works and sewer maintenance tasks.
Traffic heading downtown streams all around the construction workers, who have begun to reinforce the city's sewer network while cramped onto a small traffic island. The two 25 metre-deep construction shafts do not leave much room for the building materials, containers and excavated soil.
There is also the Sennebogen 640 duty cycle crane that sits between them, moving material around the site and down into the shafts.
Underneath the traffic island, the workers are currently constructing a manhole. The grapple completes the earthworks upstream, while the hook hoists the support structure and masonry into place later. The reinforced concrete elements weigh up to 25 tonnes and are placed 25m below the surface to hold the mass of water from the sewage pipes, which are up to 1m in diameter. Soon the district's accumulated surface water will also be safely channeled here.
To complete the construction without seriously hindering traffic, the site must be confined to close quarters. With the mobile version of the Sennebogen 640, a duty cycle crane with a 186 kilowatt diesel engine and a winch pulling force of 16 tonne, is on top of things.
Since 2000, Russian sales and service partner Kwintmadi has delivered this duty cycle crane and five other cranes to VodoKanalStroy for a variety of civil engineering operations around St. Petersburg.
In talking to the people in charge at the site, it quickly became clear why quality made in Germany was chosen. Chief engineer Igor Yakovlev said, "We put our first Sennebogen 640, with crawlers, into service in 2000.
"Since then, the crane has already logged more than 50,000 operating hours and continues to be dependable – there's no better validation than that. The Sennebogen machines stand out every day with their compact size, ease of use and maintenance-friendliness."