Service Motor Co. adds Manitou MLTs to fleet
By Lindsey Anderson28 August 2017
Service Motor Company, a longtime Gehl dealer, has added Manitou's MLT series of telehandlers to its product lines offered at their Steven's Point and Wausau, WI locations.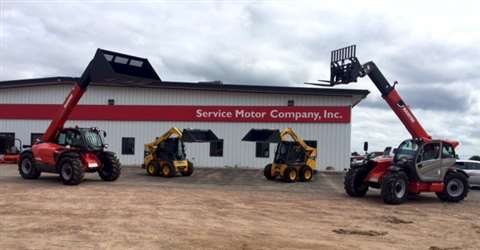 The MLTs are specially designed for agricultural and multi-purpose applications. With nearly 50 different attachments, the loaders can be used for a variety of jobs, from digging and lifting to hauling and unloading. The MLT Series telescopic loaders have a lift capacity ranging from 5,500 to 13,200 pounds and lift heights reaching 31 feet, 6 inches. "Their versatile designs and attachments maximize production, utilization, comfort and maneuverability for material handling in the farm industry," Manitou said.
"We are very pleased Service Motor Company added the Manitou MLT product line," said Chris Mathijs, Manitou products sales and marketing director. "Service Motor has over 100 years of experience servicing agriculture customers, and we feel the MLT Agriculture Telescopic Handlers and attachments will be the perfect products to enhance their agriculture line."
Founded in 1916, Service Motor Company is a family owned business focused on quality people, products and services. They have locations in Dale, Fond du Lac, Green Bay, Seymour, Stevens Point and Wausau, WI. The partnership between Manitou Group and Service Motor Company began 13 years ago when they began selling Gehl equipment.
"Service Motor Company is proud to offer the quality products Gehl has to offer," said Kevin Sommer, vice president of sales for Service Motor Company. "We are able to build positive relationships with our customers because of the strong brands of Gehl and Manitou behind our name."
In addition to offering Gehl and Manitou products, Service Motor Company offers a range of new and used tractors, mowers, implements, harvesters, trailers, wagons and much more. Service Motor Company is an authorized rental and sales representative for many of the heavy duty equipment manufacturers in the United States and offers certified training and inspections on all of their equipment