Seven record years for Palfinger
By Alex Dahm08 February 2018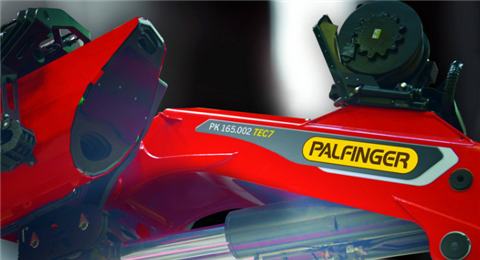 For the full year 2017 Austrian manufacturer Palfinger reported revenue of €1,471 million (US$ 1,800 million), up 8.4 per cent on the €1,357 million ($1,661 million) of the year before.
Sales for the crane, access platform and materials handling equipment maker hit a new record for the seventh year in succession. Another record was the company's earnings before interest and taxes (EBIT) at €110.2 million ($134.9 million), up 3.9 % on the €106 million ($129.7 million) in 2016.
Palfinger attributed the success primarily to "the favourable situation of the construction industry in Europe and successful sales in CIS." Palfinger said it managed to continue its growth despite comprehensive restructuring. The cost of restructuring in North America and in the company's marine business was reported as €19.5 million ($23.9 million).
Commenting on the results, Felix Strohbichler and Martin Zehnder, Palfinger management board members, said, "2017 was a year of consolidation. Having made the largest acquisition in its history in 2016, the company took comprehensive measures, primarily in North America and in the marine business, to facilitate further profitable growth. However, additional measures are required, especially in the SEA segment, in order to be able to profit from a future upswing. In 2017 we also set the course for the future by establishing our new vision and strategy."
The vast majority (83.6 %) of Palfinger's business is from what it calls its Land segment, which includes hydraulic loader cranes. Revenue was €1,230.2 million ($1,505.7 million) in 2017, up 6.6 % from €1,153.9 million ($ 1,412.3 million) in 2016.
Looking ahead, Palfinger forecast another new record high, "even though the conditions predicted for 2018 harbour a great deal of uncertainty," the company said.