Shaping up well
By Thomas Allen17 April 2019
Cramo CEO Leif Gustafsson has stressed the importance of digitalisation in rental at a successful Bauma exhibition, which saw 25,000 people visit the company's stand.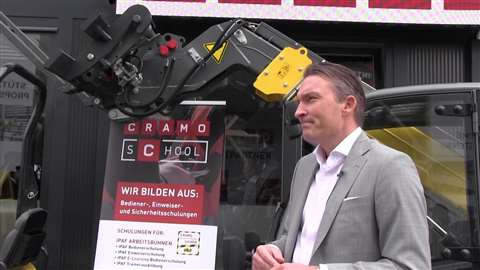 The Finnish rental company took part in the ERA's Bauma Forum conference on 'Digitalisation in the rental business among building companies and manufacturers/renters'. At the event, Gustafsson and Cramo's Senior Vice President Fleet Manager Martin Holmgren discussed how Cramo is driving the sharing economy though its digital developments.
In an interview with IRN, Gustafsson said that digitalisation is a key part of the company's Shape and Share strategy, which began in 2017.
"In the environment we see today, a lot of things are happening – urbanisation is ongoing, demographic changes, and so forth. There are two key drivers for us: one is the sustainability part and the other is digitalisation, which will be an enabler to create service solutions and added value for our customers," said Gustafsson.
As a result, Cramo now has a digital specialist on its board of directors, and the company recently launched a digital solution that comprises an easy-to-access web portal and two mobile Apps. They were said to make it easier for customers to rent equipment digitally, get a better overview of their rentals and manage equipment returns.
A video of IRN's interview with Gustafsson at the Bauma exhibition can be viewed here, and a full write-up of the interview will feature in the June issue of the magazine.