Short swing radius from Volvo
By Sandy Guthrie23 March 2016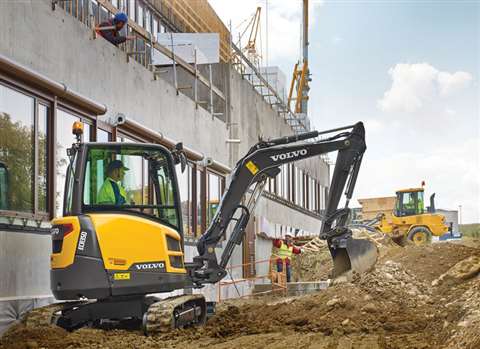 Volvo Construction Equipment will present its new ECR35D, EC35D and ECR40D compact excavators at Bauma.
The ECR35D and ECR40D short swing radius compact excavators are designed to work with power and precision in tight spaces. The more conventional EC35D, meanwhile, features similar architecture and is said to deliver comfort, performance and versatility.
Easy serviceability, versatility and greater efficiency all help the new models be more productive in a range of applications, said Volvo CE.
The new 3 and 4 tonne class excavators feature more spacious cabs. Inside, the multi-adjustable seat and console are mounted on the same suspension, and move in unison – providing shock and vibration absorption. Both the conventional model and its short swing radius counterparts claim to provide all-round visibility.
The EC35D combines a new D1.8A Stage IIIA Volvo engine with a hydraulic system, allowing customers to do more for less in all applications, said Volvo. The swing post and cylinder stay within the tracks when in an offset position, and the slew and offset movements are controlled simultaneously.
Each machine is available with an electronic system that enables operators to fine-tune functions and settings through a keypad and monitor. Up to three profiles can be saved in the system, adjusting machine behaviour to suit application and operator preferences.
For operators preferring greater simplicity, the ECR35D, EC35D and ECR40D are also available in more traditional guise without this electronics package.