Siempelkamp ships 50,000 tonne press to China
By Laura Hatton30 May 2014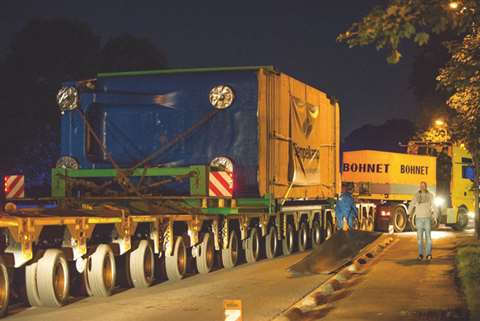 The Siempelkamp Group, a German supplier of machinery, plant and nuclear technology, delivered a closed-die forging press from its manufacturing base in Krefeld, Germany to the port of Longkou in China.
The press has a force of 50,000 tonnes and is the largest built to date in Germany, a spokesperson said. It was commissioned by Nanshan for a Chinese aircraft manufacturer.
For the first phase of the transport, 25 pieces of cargo, including foundation beams, upper and bottom press beam, vertical frame components and bottom tables, were transported. The smaller pieces weighed between 89 and 287 tonnes each. One of the larger pieces of cargo included a 287 tonne lower press beam and a movable beam with an 11 metre long centrepiece, a spokesperson added.
To move the lower press beam and pieces weighing above 200 tonnes onto the transporter, self propelled modular transporter was used. All the remaining cargo was then individually loaded onto a heavy goods transporter.
In total, the transporters, including the trailer, each weighed 400 tonnes once loaded.
Ronald Hammerbeck, Siempelkamp logistics manager, said, "The dimensions of the individual components and the high weights presented many challenges for us and required a long planning phase."
The cargo was transported to the port of Krefeld-Uerdingen. On arrival the cargo was unloaded using a 400 tonne capacity crawler crane and loaded onto three vessels. From here the cargo was shipped to Antwerp, where it was unloaded and loaded onto a seagoing vessel and shipped to Longkou, China.
At the time of writing the cargo was on its way to Longkou. On arrival in Longkou, the parts will be loaded onto heavy goods transporters and transported 20 km to the aircraft facility where they were placed into storage, a company spokesperson said. An additional 150 sea containers with press supplies, tools and assembly equipment will also be shipped to the site.
The first load will be followed by two additional transport units, each transporting a similar weight. In total 20,000 tonnes of cargo will be transported in 150 containers. The components of a 12,500 tonne press have also been transported to China.
The transport of the press will take approximately 65 days and will cost approximately €3.5 million (US$4.7 million)
The installations of both presses are scheduled to begin in July 2014. They are expected to start operation in early summer of 2015.