Silvasti handles enormous Finnish transport
By Ian Vallely06 October 2016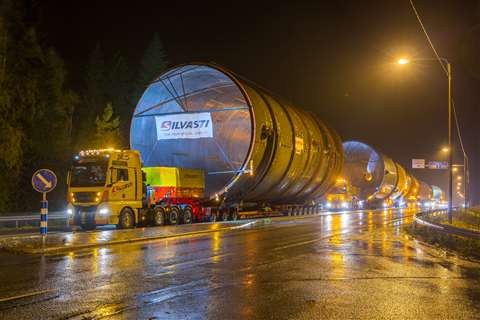 Transport Company Ville Silvasti, a member of the Cargo Equipment Experts CEE network in Finland, has handled one of the largest special transport projects ever in the country.
Two heavy bleaching tower sections, engineered by Andritz and produced by Japrotek, were transported by road more than 400 kilometres from Pietarsaari to the Äänekoski bio product mill.
The largest transport was 10.2 metres high and 9 m wide. One tower section weighed 110,000 kilogrammes and was almost 15 m long. Another part weighed 83,000 kg and was 22 m long. A 10-axle trailer and four-axle truck were used to transport these sections.
Hundreds of overhead telephone lines and electricity cables needed to be lifted along the route, and hundreds of traffic signs and overhead portals were removed. Almost 500 road modifications and power cuts were needed en route.
The transport took six days, with the convoy moving at around 15 km/h. It proceeded mainly during the night. The convoy reached its destination on time and safely.