Singapore parts centre for Kobelco Cranes
By Laura Hatton26 January 2015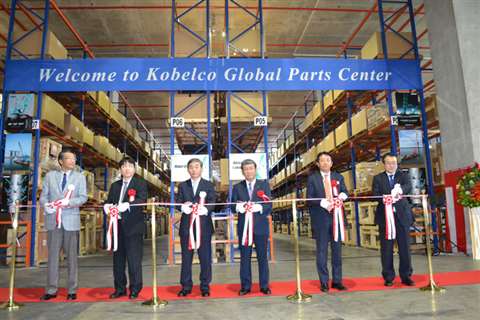 Kobelco Cranes has opened a parts centre in Singapore. The Kobelco Global Parts Centre will help the company with operations in Asia-Pacific (APAC) as well as in the Middle East, Africa and Europe, the company said.
The opening ceremony was held at the Grand Copthorne Waterfront Hotel on 23 January. The ceremony was attended by Akihiko Tsukamoto, Kobelco Cranes president and CEO, Mike Lee, senior manager of International Enterprise Singapore, several dignitaries, business partners and Kobelco dealers.
Tsukamoto said, "The establishment of Kobelco Global Parts Centre in Singapore is one of our strategies to increase our presence in this region and through this facility, we can further enhance the level of customer satisfaction with more prompt availability of our service parts in the APAC region, as well as in the Middle East, Africa and Europe."
Toshiyuki Hiromitsu, Kobelco Cranes operating officer and head of customer support division, said, "To optimise the supply of service parts and achieve extensively rapid delivery times to our customers, we have begun operations of Kobelco Global Parts Centre in Singapore where we can supply the parts within 36 hours after confirmed order and, as a result, we are hoping to increase our parts sales of JPY 1.3 billion [US$ 11 million] in 2014 to JPY 2 billion [$16 million] in five years."
Kobelco is increasing its parts stock in Kobelco Global Parts Centre to JPY 400 million ($3 million) in 2015 and is planning to expand to JPY 1 billion ($8 million) by 2020.