Sinoboom BV signs up with Trackunit
By Euan Youdale18 January 2022
Sinoboom BV, the European subsidiary of the Chinese MEWP manufacturing specialist, has chosen Trackunit to provide data services for its equipment.
Sinoboom said the two companies had collaborated closely to create a customised solution, with the aim of enhancing customer experience, and bringing machine downtime to an absolute minimum. 
This is achieved through remote diagnostics and proactive service planning, while increasing the security of equipment with machine location functions, including the ability to lockdown equipment remotely.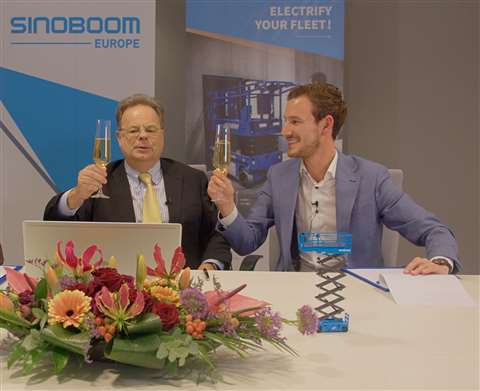 Signing the Memorandum of Understanding (MoU) between the two companies, Tim Whiteman, CEO of Sinoboom BV, said, "This agreement marks a significant step both for Sinoboom BV and our customers, who we know welcome being able to access reliable data. Trackunit has worked with us to ensure that a deep level of data is available very easily to those customers who want it.
"The focus is on leveraging data and making it useful. The partnership seeks to provide machine insights, integrating easily to other solutions and offering strong compatibility with other telematics systems – all focused on driving an improved customer experience."
Soeren Brogaard, CEO of Trackunit, stated, "This digital partnership will help to build a solid foundation for Sinoboom customers, allowing them to manage whole fleets and individual machines quickly and easily. We look forward to working with Sinoboom and create value for Sinoboom customers and the broader industry."
The MoU was signed during the Sinoboom Global Partner Summit, hosted online on 12 January for all Sinoboom partners, from the company's headquarters in Changsha, China.