Site report: Dubai reclamation
By KHL Group09 December 2015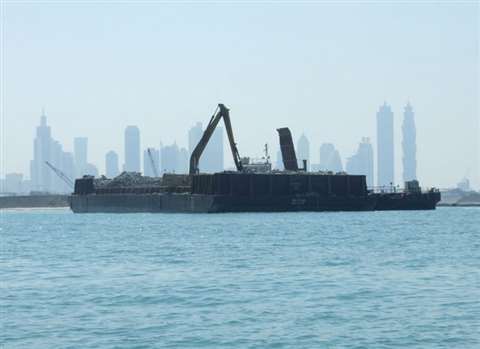 A decade ago the emirate of Dubai set about changing the way the world thought about reclamation projects, with a series of ambitious and outlandish schemes. However, the global financial crisis put several of the larger projects on hold.
Today the only completed-as-planned, built-upon and inhabited major artificial island is the Palm Jumeirah, which has a total coastline of 78 km. The development comprises a 2 km main trunk, with 16 fronds branching off to sea-front apartments, while and undersea road tunnel provides access to the Atlantis hotel and resort on the Palm's outer ring.
Although the other partially built Palm projects and 'The World' may be resurrected in the future, new schemes in this part of the UAE are more modest by comparison. Having said that, the "La Mer" project is still a major undertaking by any standards.
This mixed-use scheme near Pearl Jumeirah island and within sight of the famous seven-star Burj Al Arab hotel will have a total perimeter of 6.5 km incorporating armoured breakwaters totalling 6.5 million m3 of rock, filled with 14 million m3 of sand.
The design features a northern and southern peninsula flanking a central headland, all of which are built out from the existing coast, effectively extending it. The two peninsulas will reach around
1 km out from Dubai's shore line into the Persian Gulf.
This will provide 9.5 million ft2 (883,000 m2) of reclaimed land which the developer, Meraas Development, plans to split into four zones. The central headland will feature a beach area and the leisure and entertainment facilities, while the north and south peninsulas will be largely residential. A total of 688 apartments are to be built on the reclaimed land, along with a 160-room hotel. The development will also feature a marina.
Construction on the project began in the final quarter of last year, and the main contractor is Projects Link. This company is a subsidiary of Bilal Transport, a diversified privately-owned Dubai company which was established some 20 years ago and has its roots in transportation and logistics.
According to Bilal chairman Ali Raza Altaf, the move into other areas besides transportation came following the global downturn.
"2007 and 2008 was a dream time for us. After that we had to change our business to survive. We moved into other areas and that was when we started our construction arm," he said.
In fact the company not only owns a contracting business, but also has quarries and materials stock piling facilities within the group, along with the transportation and logistics operations. This has proved useful on La Mer, as it has been able to quarry its own rock armour for the breakwaters, stockpile it down the Dubai coast in Jebel Ali and ship it in using a fleet of nine 10,000 tonne capacity barges, five of which it owns itself.
Unloading a barge takes 6 to 7 hours, and Project Links is relying on a fleet dominated by Caterpillar equipment for this demanding and precise work. The cycle of barge loading in Jebel Ali, travel to site, unloading and the return journey takes about 21 hours.
Once a barge is in position, initial placement of the armour, which can comprise boulders as heavy as 7 tonnes each, is carried out with 90 tonne class Caterpillar 390 F excavators mounted on an adjacent positioning barge. The excavators are equipped with long-reach booms and sticks for placement at water depths up to 15 m, as well as GPS machine guidance and monitoring systems to ensure rocks are placed accurately.
Once enough space has been cleared by the excavators a
30 tonne Cat 980 H wheeled loader can drive from the equipment barge to the rock barge to place armour over the side. A simple but effective system of marking a series of 14 positions along the width of the barge helps ensure the right quantities of rock are deposited along the cross section of the breakwater, as the operator knows how many bucket loads need to be offloaded at each point.
The rock armour is Gabbro, which is quarried in the mountainous eastern emirates of Fujairah and Ras Al-Khaimah. It is specified in the project's design documents for its high density and low water absorption.
Against the clock
The timeline of the contract is extremely demanding. Having been awarded the AED 970 million (US$ 265 million) contract to construct the breakwaters and new tracts of land in November 2014, Project Links has just 14 months to finish the work, with completion scheduled for February 15 next year.
In fact the original timeline was for an 11 month civils and reclamation phase, but as Project Links infrastructure & earthwork division head Khaldoun Ganama said, an extension was clearly required.
"It wasn't realistic," he said, "Especially as it is a fast track project, so the design wasn't finalised from the start."
As it is, the company is working 24/7 to complete the work on time so keeping the key machines up and running is critical to the project's success. According to Mr Ganama, a key ingredient in this is Caterpillar's Product Link telematics system, which the company uses to monitor the health of its machines and stay on top of preventative maintenance. The use-ability of Caterpillar's web-based interface is a big plus according to Mr Ganama.
"It is easy to use and simple to find your way around," he said.
Project Links has a fleet of 80 or so earth moving machines on the La Mer project, about 30 of which are from Caterpillar, and those tend to be the critical machines. In addition to the barge-bound excavators and loaders, there are D8 and D6 dozers, 40 ton (36 tonne) capacity 740 articulated dump trucks and an array of excavators, compactors and graders at work shaping, levelling and compacting the reclaimed sand.
They are supported by Caterpillar's UAE dealer Mohamed Abdulrahman Al-Bahar, which is headquartered in the neighbouring emirate of Sharjah at a facility comprising offices, customer service desks, a Cat Rental Store and extensive workshops, which employs some 1,000 people.
Other major pieces of machinery on the scheme include three 175 ton (160 tonne) Manitowoc 4000W lattice boom crawler cranes, which are both land and barge-based, and are being used with orange peel grapples to place rock armour.
The sand reclamation is being carried out by Dredging International, a subsidiary of Belgium's DEME, from an extraction site further out in the Gulf. This is seeing sand piped ashore and placed within the new breakwaters, which rise 4.5 m above the sea level.
With parts of the new shoreline and landward sections of the new peninsulas and headland complete, building work for the structures is getting underway. Much of this is being handled by Al Futtaim Carillion (AFC), the 51:49 joint venture between the UAE conglomerate and UK contractor, which has been active in various guises since the 1950s.
Meraas named AFC preferred bidder for the UK£ 155 million (US$ 240 million) scheme building work in February. Its contract involves the construction of a mixture of top-end retail and public-facility buildings, together with substantial external landscaping to create over 1km of beach-themed frontage on the central headland.
The overall completion date for La Mer has not been confirmed.