SiteZone technology offered for rent
By Helen Wright31 August 2016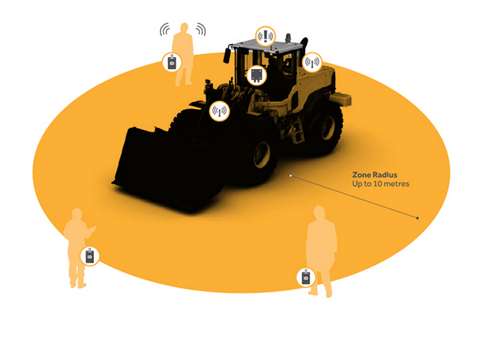 UK machine and safety technology specialist OnGrade said it was collaborating with safety rental company ESS Safeforce to increase worker protection on construction sites.
OnGrade said it had supplied its radio-frequency identification (RFID) proximity warning system, SiteZone, to ESS Safeforce.
SiteZone is a wearable two-way proximity alarm which uses vibration, audio and visual warnings to alert users when they have entered a detection zone – areas which can be varied depending on the site and vehicle requirements.
OnGrade said the collaboration was aimed at ensuring workers were protected from site vehicle collision risk. The system is said to alert personnel, operators and pedestrians to each other's presence regardless of site conditions, and warn of a potential collision.
According to the Health and Safety Executive there were 65,000 non-fatal work injuries reported in between 2014 and 2015. Approximately 11% of those people were struck by objects while doing their jobs on site, including by moving equipment. In total, 42 lives were lost from being struck by machinery or an object.
OnGrade decided that the best way to make SiteZone accessible and affordable for all site workers, SMEs and sole traders was to follow the rental model.
In this way, it said smaller businesses which are required to use the system on short-term contracts, can afford to outfit themselves with RFID safety systems as and when they need to, without having to purchase them.
Gary Escott, director of OnGrade, said, "Proximity warning systems aren't just improving safety issues, but also improving the work-related health agenda as well. It makes users feel secure. Every worker on site that faces the danger of collision risk in the course of their daily work should be able have and feel this extra security and safety."
And renting the equipment comes with the added security of replacement in the unlikely event that there's a problem with the RFID system. ESS Safeforce also worked closely with OnGrade through its special support team, offering assistance to anyone renting SiteZone; including installation.
Director at ESS Safeforce Gary Ridsdale added, "Some time ago ESS Safeforce realised that OnGrade had a truly innovative and lifesaving product with its SiteZone proximity warning system.
"As one of the UK's leading suppliers of safety equipment for rental, we encounter numerous plant operators trying to enforce pedestrian exclusion zones, hence there is huge market potential for SiteZone, encompassing the safety of both workforce and civilians.
"In light of even stricter safety standards across the UK construction sector, we offer SiteZone as an early adoption product. In most construction environments we can identify the potential need, whether that is a cost effective safety product available for rental, or an innovative tool which enables improved processes and procedures for a business or during a project."