Six Kobelco G2 cranes for UK contractor
By Ian Vallely23 December 2016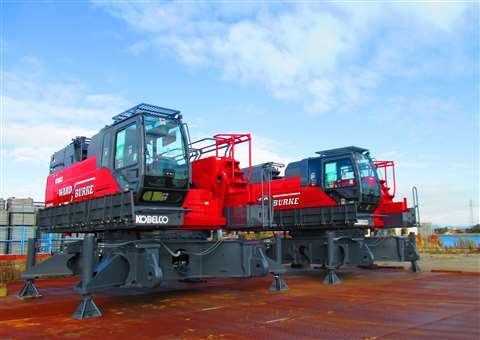 Design and build civil engineering contractor Ward and Burke, which works in the waste, sewage and water management sector, has bought six new Kobelco cranes, including two CKE1350G-2s and four CKE900G-2s.
The company, which has offices in Ireland, the UK, Canada and the US, was due to take delivery of the new cranes in January 2017, with two CKE1350G-2s and one CKE900G-2 going to work in Blackpool on a project for United Utilities, while three CKE900G-2s will be put to work on a project for Yorkshire Water. To support its work in the north of England, Ward and Burke plans to develop a major plant yard in Wigan, where he says there is an abundance of talented young people.
Ward and Burke owner, Michael Ward, said, "We've been customers of Kobelco Cranes for over 10 years and half our current fleet of 25 cranes is Kobelco, so we are excited to be receiving these new cranes in January 2017, just in time for what is already turning out to be another busy year."
The CKE1350G-2 and CKE900G-2 series cranes, which have maximum lifting capacities of 150 tonnes at 4.4 m and 90 tonnes at 3.9 metres respectively, feature Stage IV/Tier 4 Final engines. The "new clean energy system" engines use a DPF (diesel particulate filter) to reduce particulate matter and an SCR (selective catalytic reduction) to reduce nitrogen oxides (NOx).
SCR is an exhaust gas after-treatment system. It converts NOx, which are contained in the diesel engine exhaust gas, with the aid of a catalyst (AdBlue), into harmless diatomic nitrogen and water.
The new "G Engine" system also keeps the engine running within fuel-efficient parameters by limiting maximum engine speed. While engine speed is reduced, pump capacity is controlled to maintain maximum winch speed for running or lifting. Using this function reduces fuel consumption by 10 percent when compared to operations on a comparable crane.