Skanska in US hospital contract
By Joe Malone17 August 2016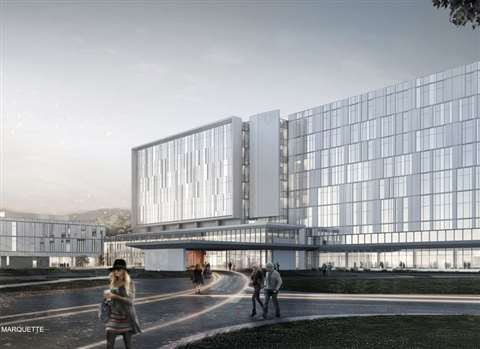 A Skanska-led joint venture has signed a US$ 206 million contract to build a hospital in Michigan, US.
Skanska USA Building, together with Closner Construction, agreed the deal with Duke LifePoint Healthcare, which will see the current hospital replaced.
The contract comprises a new 50,000 m², 243-bed replacement facility that will include 14,000 m² of diagnostic and therapeutic services, and 17,000 m² of patient care services.
The project is expected to be completed in October 2018.
Last month, the company announced it had recorded half-year revenues of SEK 72.5 billion (US$ 8.61 billion) for the first six months of 2016 – a 3% decrease from the same period a year ago.
The group's operating income rose 46% to SEK 3.6 billion (US$ 430 million), thanks to a rise of 220% in its commercial property development sector. However, its construction sector saw a decrease of 21% to SEK 1.34 billion (US$ 160 million).
Skanska said its outlook for the next 12 months continued to be positive.