Skanska renovates Helsinki Olympic Stadium
By Ian Vallely13 February 2017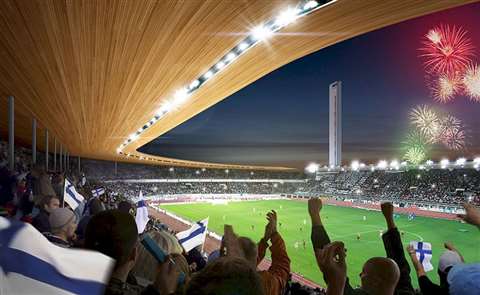 Skanska has signed a contract with the City of Helsinki for the renovation of the Olympic Stadium in Helsinki, Finland. The contract is worth about SEK1.5 billion (€156 million).
The project includes renovation of the seating arrangements and building roofs to cover all of the stands and terraces, as well as the renovation of running tracks. Underground, there will be completely new facilities for sports, gyms and maintenance. The restaurant and toilet facilities will be significantly increased.
There will be about 19,300m2 of new facilities constructed, and the entire scope of the project is about 90,000m2. The renovated and completed Olympic Stadium will be a diverse and multifunctional arena that will host both sports and cultural events of international scale.
Construction will begin during the first quarter 2017 and the project is expected to be completed during 2019.
The history of the Olympic Stadium goes back to 1927, when the Stadium Foundation was founded. The construction works for the building began in 1934, and the inauguration of the Stadium was in 1938. The Olympic Games were supposed to take place in Helsinki, but then World War II broke out and it was not until 1952 that the Games were finally arranged in Helsinki.
The stadium building is 243m long and up to 159m wide. The tower is 72m high and the stadium covers 4.9ha.