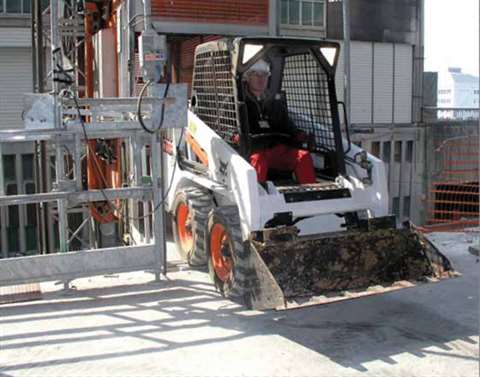 Estimates suggest that some 70,000 skid steers (wheeled and tracked) are sold around the world on an annual basis, with more than 75% of these going into the North American market. Of course, the vast majority of these find themselves working in applications outside the coverage of this magazine – in agriculture, general construction and industrial applications.
As a result, it is impossible to provide anything approaching a vague guestimate as to the numbers entering the demolition/recycling sectors. Even the manufacturers themselves would be hard pushed to provide a breakdown, but some market trends can be identified.
According to Cat's Marie-Eve Penel: "At Caterpillar, demolition belongs to the industrial category and this has more than doubled within the last five years for Cat in terms of sales.
Certain attachments for these multi-purpose machine shave also proved more popular, including industrial grapple buckets and grapple forks, hammers, shears and pick up brooms for site clearance."
During the year Cat has introduced four new models in its C Series line-up, the 246C, 256C, 262C and 272C that extend the line upwards in operating weight. Indeed the 272C, weighing in at 1,174 kg (3,250 lb), is the largest skid steer the company has ever produced.
These C series machine offer greater lift and tilt forces when compared to their equivalent B series counterparts. The result is aggressive digging performance and solid lifting performance to maximise productivity, says the company.
With 2007 being a Bauma year, that event was the venue for most of this year's launches in the skid steer product sector, and there will no doubt be more new machines aimed at the North American market launched at the ConExpo event early next year.
Among the highlights of the 2007 launches was the premier of BobCat's compact S100. Weighing in at just 1.8 tonnes it has a rated capacity of 453 kg. At 2.26 m long and 1.18 m wide, the S100 can manoeuvre in confined spaces, while a selection of more than 30 attachments means it can carry out a range of tasks.
Further up the weight categories is New Holland's 900kg capacity L175. This features the company's 'Super Boom' vertical lift linkage for higher dump heights, fast ground speeds and the design means there are no rear towers or structures to reduce visibility. Options include two-speed drive and a deluxe cab with air conditioning.
JCB has unveiled new machines in its 'Robot' skid steer loader range. The line-up consists of five wheeled skid steers from 600 kg to 1,100 kg capacity, along with three tracked variants boasting 820 kg, 900 kg and 1020 kg capacities. While most of these machines are replacements for existing models, the (wheeled) Robot 180 is JCB's first ever 800 kg capacity skid steer.
The most striking thing about JCB's skid steers is the single arm design, which allows the operator to get into the cab via a side door, rather than having to climb over the bucket. Models from the 190 upwards are available as a 'high flow' (HF) variant to allow them to work with attachments such as planers and trencher blades.
Volvo, meanwhile has added to its range of B Series machines so that it now offers a five model line with weights from 613 kg (1,360 lb) to 1,021 kg (2,250 lb) and gross engine power for 35 kW (46.9 hp) and 61.6 kW (82.6 hp). According to the company, its B series machines are designed for increased productivity and profitability through improved performance levels, better serviceability, operator comfort and safety. Every model is available with either mechanical or pilot hydraulic control.
On tracks
Tracked skid steer are a relatively new addition to the compact equipment market, with the first models appearing only about five years ago. By taking a skid steer loader upper and replacing the wheels with a dozer-style track, these machines exert much less pressure on the ground. This has opened the door to new applications, such as working on marshland – conditions in which a conventional wheeled machine might sink – or on surfaces such as soft turf, where normal skid steering machines might damage the ground when turning.
But they are gaining in popularity. According to Cat's Marie-Eve Penel: "We have seen the sales of tracked skid steer loaders increase by almost 50% with the last five years."
To take account of this, Cat also added three new tracked models during 2007 – the 277C, 287C and 297C that, claims the company, deliver industry leading performance and operator comfort in their size classes. They feature a new undercarriage design that provides maximum durability, ease of maintenance and improved ride. A choice of single or dual level undercarriage suspension is available on all three models, and a two-speed option is available for fast on-site movement.
As was the case with the wheeled 272C, the tracked 297C is the largest such machine that Cat has ever produced, with its operating weight of 1,920 kg (4,233 lb).
All three models are powered by a 3.3 litre Cat 3044C DIT engine provides a power output of 67 kW (90 hp) on the 297C, and 61 kW (82 hp) on the smaller two machines. Each model is equipped with a demand fan to provide maximum cooling capability only when required. Reduced fan speeds under light loads saves fuel, adds performance and reduces sound levels, says the company.
The new Case compact tracked skid steer for example, the 440CT, has a ground pressure of just 34.5 kPA on its 1.44 m long tracks. CNH sister company New Holland's latest models are the C175 and C185, which feature a two-speed transmission for a top speed of 7.4 km/h.
With the multitude of attachments that are available for this machine type, no matter the make, there is no doubt that skid steers will continue to be a familiar sight on demolition sites, inside and out, as well as many recycling faculties around the world. And as the attachment range grows, skid steers are likely to gain even more in popularity as the drive to minimise hand tool usage in demolition applications continues.