Sky Platform flies the flag
By Euan Youdale13 June 2013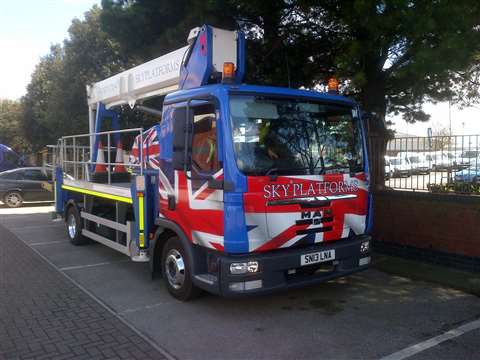 UK-based Sky Platform Hire is investing in two new Ascendant 22 TJ telescopic truck mounts featuring Union Jack flag livery.
Steve Dean, managing director of Ascendant commented: "We are always happy to accommodate special requests for our customers, so when Sky Platform asked us to create this 'Best of British' vehicle for them we were more than happy to comply. The result is a piece of kit that really stands out, both visually and in terms of the spec sheet."
The Ascendant 22 provides a compact, rigid boom design that makes it ideal for working on unsteady terrain, said the manufacturer. This is combined with a 17 m outreach and 22 m working height. Weighing in at 7.5 tonnes, a UK HGV license is not required.
Paul Hockey, of Sky Platforms added, "We're very pleased with both the look and specification of the Ascendant 22. The Union Jack is enjoying something of a revival following the success of the 2012 Olympics and Queen's Jubilee, so we thought it was the perfect time to invest in some kit that would really stand out from the crowd."