Skyjack and Trackunit announce partnership
By Lindsey Anderson11 October 2017
Skyjack and Trackunit have partnered with the aim of providing easy access to machine data, in order to support connected fleet goals of rental companies and Skyjack's customers. The deal was announced during the ALH Conference & Awards in Miami.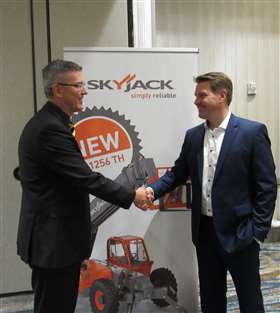 Brad Boehler, Skyjack president and Tom Valbak Aardestrup, COO of Trackunit, were together in Miami to announce the partnership. A key benefit to partnering with a third-party telematics provider is avoiding the pitfalls of proprietary hardware and software that have bogged down prior OEM provided solutions. According to the companies, these have sometimes made it difficult for a rental company to adopt an OEM solution where most fleets contain multiple makes and models. Trackunit currently provides telematics connectivity for mixed brand fleets across the globe, allowing Skyjack/Trackunit solution to flow into that ecosystem.
"Skyjack aims to provide simple and reliable products that deliver a proven value. We're at the point with telematics where our customers see the value, and partnering with Trackunit puts us in a position to continue to deliver great ROI with this product," Boehler said. "We looked at our customer base and asked ourselves, 'What do we all want to know?'"
Trackunit has been providing telematics solutions developed for the off-highway and construction sector for more than 10 years. The company has customers in more than 65 countries.
"We have focused on manufacturers for a very long time," said Aardestrup. "Skyjack wants to differentiate itself and they make a great partner for us in this space. As part of this partnership, we look forward to continuously pushing the boundaries for technology involvement within the construction industry. Skyjack is a leader in their space and they are dedicated to creating unique solutions for the equipment rental and construction industry."
Boehler told ALH the information gathered from telematics will allow equipment on jobsites to have longer uptimes as well as there being a "solution at all times" to issues that might arise.
David Swan, product manager at Skyjack said, "Skyjack has partnered with Trackunit largely due to their understanding of the off-highway (OHV) rental industry. The OHV sector presents unique challenges with regard to Telematics. For Trackunit, it's part of their core business. It's what they do: deliver value to OHV and construction operations."
Boehler told ALH that he sees machine connectivity important for Skyjack's customers' goals, which are also his company's goals. He wants Skyjack to provide a solution that delivers actionable insights to improve existing fleet management processes.
"This is all about information and how it can be used," he said. "We will offer different packages for different people. We still will be simple and reliable."
The service is targeted for a launch date in the first quarter of 2018 and while full product and feature details are yet to be revealed, packages for both data-only (supporting rental company ERP systems), and a standalone end-to-end solution will be offered. In addition, Skyjack plans to offer services directed towards the end user such as access control, familiarization and safety check tracking as integrated components of the solution.