Skyjack debuts compact telehandler
By Lindsey Anderson21 February 2018
The company's new SJ519 TH features a 5,500-pound lift capacity and maximum lift height of 19 feet, 1 inch
Skyjack has debuted the SJ519 TH telehandler. The compact unit is the first of its kind in Skyjack's product offering and features a 5,500-pound (2,500 kg) capacity and a maximum lift hegith of 19 feet, 1 inch (5.82 m.)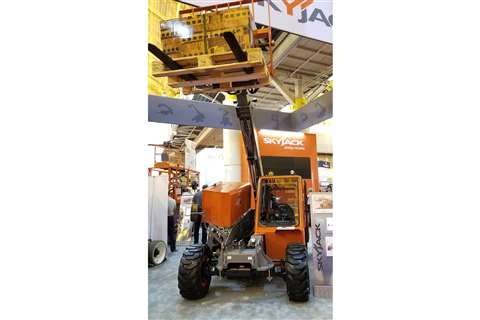 "The addition of a compact telehandler means that Skyjack is now positioned to compete in a whole new class of telehandlers," said Barry Greenaway, product manager at Skyjack. "The SJ519 TH also redefines the compact market with its class-leading cab size."
At its maximum reach of 11.25 feet (3.44 m,) the SJ519 TH can lift a rated load of 4,400 pounds (2,000 kg). Skyjack says all major service points are easily accessible.
"When we started the design phase for this product we knew we wanted to maintain similar features with our existing telehandlers," Greenaway said. "It's Skyjack's consistency across products that adds to simplicity of service, and decreased downtime for our customers."
For more on Skyjack's new SJ519 TH telehandler, see ALH's feature story in the April issue about the compact telehandler market.