Skyjack expands in Switzerland
SkyAccess, a sales and rental company in the country, recently added additional Skyjack units to its fleet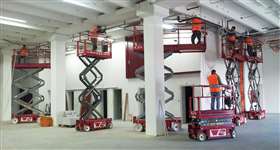 Skyjack is increasing its market share in Switzerland with SkyAccess, a sales and rental company in the country that recently added Skyjack units to its fleet.
"We are a leading player in the aerial work platform sector in Switzerland," said Martin Vögtli, chief executive at SkyAccess. "Skyjack has been a very reliable partner for us. They have developed the right products and had the right focus in making sure their equipment is easy to use."
Headquartered in Oensingen, SkyAccess sells, rents and services mobile elevating work platforms (MEWPs), along with its sister companies, WS-Skyworker and SkyService. Since 2004, SkyAccess has continually increased its annual purchase of Skyjack units, to update its fleet and offer the latest products to its customers.
"We've built up a good relationship with SkyAccess over more than a decade and our scissors and vertical mast lifts, in particular, are proving to be popular on many different jobsites," said Malcolm Early, vice president, marketing, at Skyjack. "All of our units are designed to be easy to use and reliable, and we're pleased that sales of our booms and rough terrain scissors are also increasing."