Skyjack's telehandler evolution
By Lindsey Anderson26 September 2022
Editor's Note: In celebration of ALH's 15th anniversary this year, we are taking a look back at equipment, topics and trends from 2007 – our first year of publishing. For each "throwback" story within ALH, we have provided an update here on our website that includes exclusive video interviews and expanded content. The original articles have been edited for length within the magazine, but names and titles have remained as they were originally published. To read the original 2007 article, click on the supported file below or subscribe and download Access, Lift & Handlers for free here.
It was just 15 years ago that Skyjack officially added telehandlers to its product lineup. Through its acquisitions of CareLift Equipment's ZoomBoom brand and Volvo's VR range, the access equipment manufacturer not only expanded its offerings, but entered new markets as well.
Today, Skyjack produces a full telehandler line with seven models under its belt – including the original ZoomBoom ZB2044. We recently sat down with Malcom Early, Skyjack's vice president of marketing, to get an update on Skyjack's telehandler business. Here's what he had to say.
ALH: Skyjack introduced its first telehandler – the ZB2044 through the CareLift acquisition in 2007. You now have a full range – seven models – available, including the ZB2044, which has retained its original branding/name. Will the ZB always be offered by Skyjack? And why hasn't it been re-branded as a Skyjack product?
Early: Back in 2007, there were two telehandler-related acquisitions. The VR range was acquired from Volvo and the ZoomBoom range that came from the CareLift acquisition.
Over the next few years, we went through some rationalization of these two ranges. That process tended to favor the VR range, with the ZB2044 being the model that we kept from the CareLift range. In terms of nomenclature, we adopted the name Skyjack ZB2044, which was a combination of Skyjack and ZB to represent ZoomBoom. As the largest in our telehandler range, the ZB2044 is a firm favorite for infrastructure projects, and we see it as a key part of the telehandler range.
In 2015, against the background of the Tier IV final engine change, Skyjack took the opportunity to completely reassess the design of the VR range. While the VR range was well-specified, its price position needed to be addressed.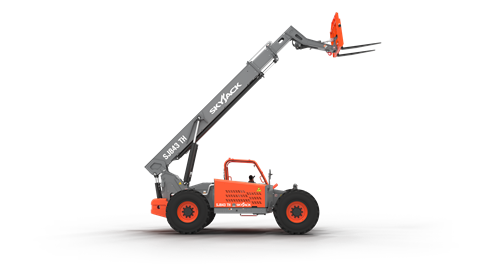 With the introduction of Tier IV Final, associated cost increases were a further problem to be addressed. When it came to Tier IV Final regulations, the new range was engineered to require no diesel particulate filter (DPF,) no diesel exhaust fluid (DEF) and no other active exhaust after treatment on standard engines for Tier IV Final.
By using improved gearing, high torque engines and a simplified, high efficiency hydraulics package, Skyjack designed the TH series to employ 74hp engines while delivering the same on-site job performance as higher power units. To reflect these significant advances on what was a clean sheet design we changed the series name from VR to TH. At launch, there were four models (SJ644 TH, SJ843 TH, SJ1044 TH, SJ1056 TH). In subsequent years we have added another two models: the SJ519 TH (compact) and the SJ1256 THS.
ALH: Currently, what is your most-popular telehandler model? Why?
Early: By volume the most popular Skyjack model is the SJ843 TH, which features a maximum lift height of 43 feet, 4 inches and a maximum forward reach of 28 feet, 7 inches rated at 1,900 pounds. Like the rest of the TH series, the SJ843 TH features a DPF and DEF Free Tier 4 Final 74 hp/221 lb-ft Deutz TCD 2.2L engine.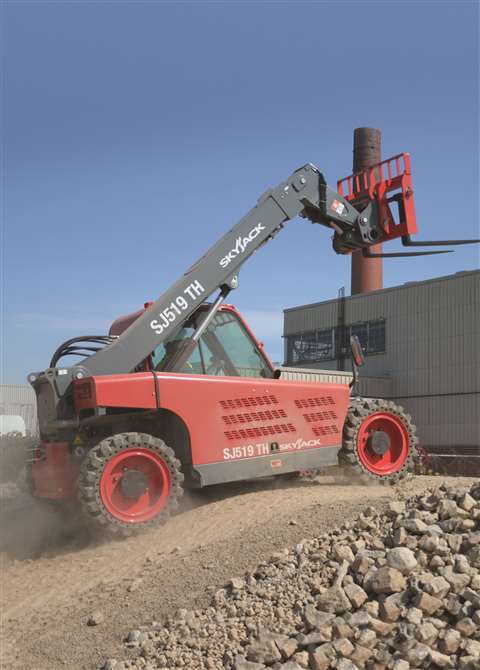 ALH: There is a quote in the 2007 news story about sales being down, but that they were expected to rebound by 2010. Can you talk to us about how the telehandler market has fared over the last year or so?
Early: Since 2007, we have been through a number telehandler market cycles, and in more recent years, the pandemic has had a negative market impact. From a Skyjack point of view, the new TH range has continued to increase as part of our sales product mix with continued improvement in market share. In 2022 we have seen an improvement in the market as rental industry growth and post pandemic fleet renewal have come into play.
ALH What are two or three major changes to telehandlers (design, engineering, use, etc.) that have happened in the last 15 years?
Early: From a Skyjack point of view, the redesign of the VR range and introduction of the TH series were a major milestone for the company. For the industry, the introduction of the compact telehandler (and in the case of Skyjack the SJ519) represents a major and growing class.
ALH: Are there any plans to introduce new telehandler models and/or update or refresh your current lineup?
Early: In 2021, Skyjack updated the TH range with core changes such as:
Tilt compensation cylinder configuration has been updated to utilize a dual cylinder setup, to better distribute the load and improve reliability.
High-pressure filter has been added to the hydraulic system to compliment the oil return filter and further reduce the risk of contamination.
Main boom pivot bearings have been updated to greaseless bearings, removing the need for end users to grease and maintain on job sites; and
Steel engine cowlings are highly durable for better on-site protection, while also requiring less repairs.
Supporting documents
Click links below to download and view individual files.