Skyjack SJ519 TH utilizes Deutz engines
Skyjack's new SJ519 TH unit is utilizing a high-torque, 75hp, Tier-4-Final Deutz TCD 2.2 L3 diesel engine. Both the Skyjack SJ519 TH telehandler and the Deutz engine made their North American debuts at The Rental Show this year.
"With the Tier 4 Final deadline less than a year away, it's important that manufacturers install engines that not only meet Tier 4 standards, but also offer simple maintenance and optimal performance at a reasonable cost," said Steve Corley, chief sales officer for Deutz Corporation. "This is particularly important in the equipment rental industry. Based on our successful TCD 2.9 Series – which Skyjack uses in many of its other telescopic handlers – our new TCD 2.2 L3 uses a DVERT oxidation catalyst (DOC) that enables maintenance-free operation under all application and ambient conditions for Tier 4."
All Duetz 75hp TCD engines can provide high levels of torque that compensate for their lower horsepower. As a result, the new Skyjack SJ519 TH can raise heavy loads and travel safely over rough terrain.
"Our goal is to produce and sell machines that combine reliability, outstanding performance and top value," said Malcolm Early, vice president of marketing for Skyjack. "We've previously chosen Deutz engines for other Skyjack telescopic handlers. Now, we're confident that the TCD 2.2 L3 is an ideal solution for the compact SJ519 TH model thanks to its smaller footprint, excellent reliability, cost benefits and Tier-4-Final compliance."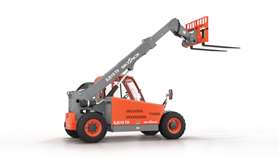 According to Skyjack, the TH line was engineered to meet the broad requirements of the rental equipment industry while filling a gap in the telehandler market with machines that offer the features and versatility previously only found on premium units. The new, compact SJ519 TH remains consistent with this philosophy by offering easily accessible service points, a simple control panel and multifunction display and a modular cab that rental dealers can easily convert from open to closed as needed, according to the companies.
"Since launching the TH telehandler range, we've received excellent feedback from the rental market," Early said. "Demand for compact machines continues to grow, and because the new SJ519 TH offers top-notch features and a Deutz engine, we anticipate many rental dealerships adding them to their fleets. Partnering with Deutz provides our customers with access to worldwide service support, brand recognition and a reliable reputation that they can trust."
Skyjack's boom line has been powered by Deutz engines since 2006.
"Supplying engines to a prestigious equipment manufacturer like Skyjack is truly a testament to the technology and innovative spirit that are at the heart of every Deutz product," Corley said. "Our goal is to provide Skyjack and all our OEM customers with engines that give their machines a competitive advantage in the marketplace. The TCD 2.2 L3 is another example of our dedication to that goal."