Skyjacks get to work in London
By Lindsey Anderson20 December 2016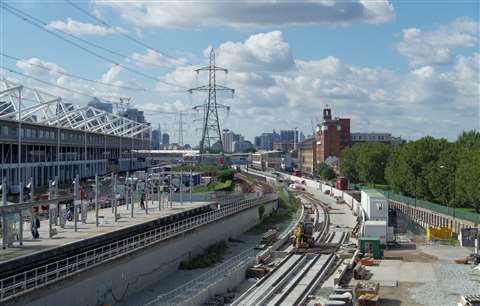 Skyjack is helping build one of the largest construction projects in Europe, which is injecting billions of pounds into the UK economy.
A fleet of 100 Skyjack mobile elevating work platforms (MEWPs) are working on London's Crossrail project. The multi-billion pound scheme will result in a major new 62-mile railway system across the UK's capital and its surrounding regions.
"The London Crossrail project is a hugely important and extensive scheme for the southeast of England and we're really pleased to be involved," said Mark Jackson, managing director of JMS Plant Hire. "We're supplying a significant number of different Skyjack machines to several main contractors because our customers want equipment that will do the jobs required, effectively, safely and reliably."
The Crossrail project will link 40 stations along its route including 10 new stations. The £14.8 billion (US$18.1 billion) project will connect to the London Underground network and National Rail networks and will be known as the Elizabeth Line – in honour of the Queen. Service is scheduled to commence in 2018 and will be fully operational in 2019.
Construction includes 26 miles of tunnels under central London. It is intended that the route will bring an extra 1.5 million people to within a 45-minute commute of London's main business districts and will carry around 200 million passengers a year. The new state-of-the-art rail network will offer faster transport times, more comfortable travelling experience and is expected to inject nearly £42 billion (US$51.3 billion) into the UK economy.
"Skyjack's products offer a range of different elements for a whole variety of uses and circumstances in construction, which is why we recommend them to our customers," Jackson said. "For such a large-scale and complicated scheme like Crossrail, each element of the project has to be delivered successfully for the whole infrastructure to be created smoothly."
The 100 Skyjack machines working on the Crossrail project include electric scissor lifts SJIII 3219, SJIII 3226 and SJIII 4632; rough terrain scissor lifts SJ6826 RT and SJ6832 RT; and articulating booms SJ46 AJ and SJ63 AJ. Many of the machines have been on site since March working on all aspects of the Crossrail project, from constructing the main tunnels and stations, to testing and cleaning of equipment.
"At JMS we like Skyjack's machines because they are easy to use and reliable, and as a company they are great to deal with," Jackson said. "Our engineers like using their equipment, and time and time again our customers request Skyjack above anything else."