Skylift takes new Tadano
By Laura Hatton20 October 2015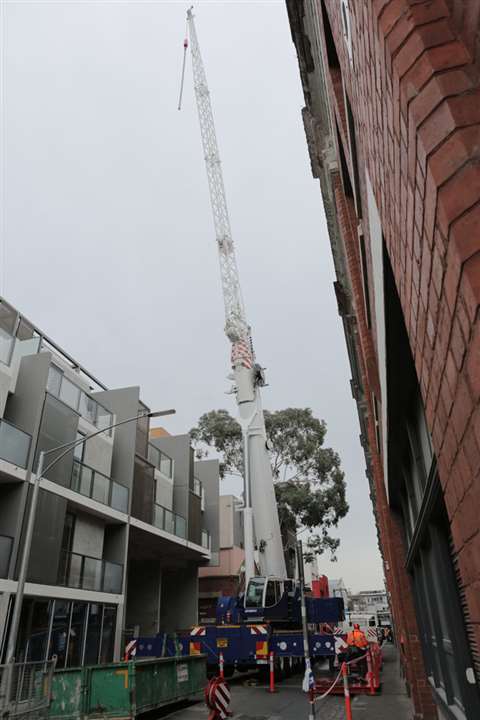 Melbourne, Australia-based crane rental company Skylift Crane Services has added a Tadano ATF 220G-5 to its fleet.
The 5-axle all terrain has a six-section 68 metre boom and a 37.2 m extension. It has full hydraulic suspension, 85 km/h maximum road speed and can climb a 69 % gradient, the manufacturer said. In addition, the model has the Asymmetrical Outrigger Base Control system.
Craig Meredith of Skylift Crane Services, said, "The over 200 tonne sector opens up an entirely new range of work opportunities. With the right crane in our fleet we would be able to pitch for work with bridge construction, chiller replacement, high rise works and so on.
"Through recommendations from industry colleagues we were encouraged to look at the new Tadano ATF 220G-5 crane. What we saw convinced us pretty quickly that this crane was perfectly matched to our needs and that the Tadano brand is in demand worldwide," Meredith said.
"The Tadano features that appealed to us were the lifting chart which proved superior for radius work and the efficient transportation of accessories. All terrain cranes in this category need four semi-trailers to carry the counter weights and the jib. The Tadano only needs three, making it 25 % cheaper to transport the accessories to the work site," Meredith added.
"We've been impressed by how simple the Tadano ATF 220G-5 is to operate," said Meredith. "What we needed was a quality crane that is a simple to operate, efficient and reliable and that is exactly what the Tadano ATF 220G-5 has delivered for us. Before we purchased our new Tadano crane, we budgeted on having the crane in work initially for two days a week. Since we've been operating the Tadano ATF220G-5 it has been out on site an average of four days a week."