When we last reported on the compact telehandler market, the smallest capacities were around 4,000 pounds. I poised a question at the end of the article; "Will we see units go even smaller?"
We have.
Earlier this year, Ausa has signed a 10-year agreement with JLG to manufacture a new ultra-compact telehandler which JLG debuted at The ARA Show.
The new SkyTrak 3013 is designed to handle materials in narrow spaces and will be manufactured in Manresa, Spain. It allows JLG to expand its catalog to a segment that it had previously not covered.
Ramon Carbonell, CEO of Ausa, said, "The partnership between Ausa and JLG to manufacture the SkyTrak 3013 represents a commitment by two global leaders in the telescopic handler business to meet a need in the U.S. market. We are proud of our legacy in this market and pleased to partner with a company that is a world-leading designer, manufacturer, and marketer of access equipment."
The SkyTrak 3013 is adapted from Ausa's existing T144H. The 3,000-pound-class telehandler is well-suited for loading and unloading pallets from flatbed trucks, as well as lifting and placing materials at heights up to 13 feet. The 3013 telehandler weighs 5,300 pounds and has a compact 4-foot, 6-inch by 8-foot, 9-inch footprint. The unit features rear pivot steer allowing it to be highly maneuverable, while its light weight allows for transport by a standard pickup truck equipped with a tow-behind trailer. Additionally, the new model features four-wheel drive, two-wheel rear steer, a hydrostatic drive system, and two coupler options, all supported by a Kubota V-1505 diesel engine with 24.8 hp.
"JLG is excited to announce this partnership with Ausa, a manufacturer with more than 60 years of experience in the design of compact industrial equipment," said Rogerio dos Santos, senior director of engineering for JLG. "Coupled with JLG's innovation in the access industry, including proven success in the telehandler market, the two companies are poised to build a product that is more versatile and harder working than competitive models."
The SkyTrak 3013 is built to be the best solution for handling and transporting materials in small spaces. When compared to skid steers, the new ultra-compact machine will offer better reach into truck beds and trailers, and over obstacles, in addition to better lift height for single story houses and dump trucks. The cab design is spacious, and the placement of the boom gives operators a 360-degree view.
"The expansion of the SkyTrak line into the 12,000- and 3,000-pound classes represents the ongoing commitment JLG has made to providing its customers with a wide-range of telescopic handler solutions that can help them complete anything from smaller scale construction projects to larger industrial sized jobs," said John Boehme, senior product manager, telehandlers, JLG. "With less open space, we are seeing buildings get narrower and taller, driving a stronger need for telehandlers in these two size classes.
The SkyTrak 3013 will be available with a variety of options, including open and fully enclosed cabs, a cold weather package, work lights, universal skid steer coupler, and a variety of tires.
"This partnership and the new SkyTrak 3013 from JLG are forged in combined experience of more than 110 years between the two companies," added dos Santos. "Customers can expect a machine that is ready to tackle jobs that skid steers can't, backed by JLG's warranty, parts and service expertise."
Seen at shows
From World of Concrete to ConExpo, manufacturers showcased a spectrum of their telehandler offerings, from the sub-compacts to 12,000-pound capacity beasts. AMS-Merlo used World of Concrete and The ARA Show to showcase its P27.6 Plus unit.
The compact telehandler offers 6,000 pounds of maximum load capacity, a lift of 19 feet, 4 inches and a reach of 10 feet, 9 inches. The Tac-Lock capability means the machine is "very attachment friendly" for added versatility across industries. The P27.6 offers 75HP/25 MPH, hydrostatic transmission, low pivot boom for better sight lines and an enclosed cab with ergonomic seating and controls.
Also at ARA, Gehl showed its RS4-14 telehandler, a versatile machine that excels in loader, telescopic handler and industrial forklift applications. At just under 60 inches wide and 75 inches tall, the unit is the most compact model in the Gehl lineup. It boasts a maximum lift capacity of 4,400 pounds, lift height of 14 feet, 3 inches and an outreach of 9 feet. The Gehl RS4-14 telescopic handler has four-wheel drive, three steering modes and a 10-foot, 1-inch turning radius, so it can work on uneven terrain and in confined spaces.
Although compact, the Gehl RS4-14 telescopic handler has a full-size operator cab for ultimate comfort. The machine is easy to operate, and the two-speed hydrostatic transmission with gear change on the JSM (Joystick Switch and Move) provides flexibility and precision. The JSM joysticks allows the operator to control all hydraulic and directional functions with one hand, so the other hand can remain on the steering wheel at all times for added safety. A wide selection of attachments are available for maximum versatility, and customers have the option to select the universal skid attach system or Manitou quick attach system.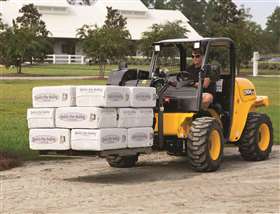 JCB had its 504-13 Loadall at The ARA Show earlier this year. With a 4,000-pound lift capacity and maximum lift height of 13 feet, 3 inches, the JCB 504-13 telehandler is suited for maintenance applications, jobsite clean-up and material handling within confined worksites.
The 504-13 telehandler builds on the design and capability characteristics of the company's earlier JCB 520-40 Loadall, with the addition of a 39 hp Perkins Tier 4 Final-compliant diesel engine. The engine requires no aftertreatment and produces 120 lb-ft of torque at 1,800 RPM.
Other features include: All-steel bodywork; Permanent 4-wheel steering for enhanced maneuverability; Low boom profile for exceptional visibility, enabling improved productivity and safety; Compact tool carrier or skid steer coupler for attachments to accommodate a wide array of attachments and applications; Two-speed hydrostatic transmission and; 2-year/2,000-hour warranty.
The 504-13 Loadall features JCB's U-pressed steel boom with fewer welds and stress points than competing brands. Also unique to JCB Loadall telehandlers are 500-hour extended service intervals and simplified maintenance procedures, with all daily checks performed at ground level.
Also available is a limited-slip differential for maximum traction on slippery surfaces by transferring drive from the spinning wheel to the stationary wheel.
The unit features a low height of 6 feet, 6 inches and a narrow width of 5 feet, 1 inch.
Proven workhorses
Xtreme Manufacturing's smallest offering is its XR619-A.
The XR619 has a lift capacity of 6,000 pounds, a maximum lift height of 19 feet and a forward reach of 11 feet.
It comes equipped as standard with long-life boom rollers, for smooth, chatter-free operation and minimal maintenance, the company says, as well as 360-degree visibility from the cab, intuitive operator controls and a boom lift point.
Offered with a choice of three cab configurations – open; enclosed; or enclosed with heat and air conditioning – the XR619 can be ordered with either a fixed or a fork positioning carriage and can be further customized with individual options including LED work lights, a backup camera and synthetic oil for cold environments.
Designed to handle rough terrain, the XR619 is powered by a Deutz 2.9L 74hp Tier 4 Final engine. High grip pneumatic 12.00 x 16.5 tires and a ground clearance of 10.8 inches make easy work of travelling around an uneven jobsite, Xtreme notes.
The unit weighs 10,300 pounds and is constructed of all steel. A new cast adapter helps to reduce overall weight, Xtreme says, while enabling the increase in lift capacity to 6,000 pounds, and new fiberglass engine covers provide improved fit and finish and better accessibility for servicing.
The XR619 has a turning radius of 11 feet and stowed dimensions of 71-inches-wide and 6.5-feet-high. It was shown at World of Concrete 2019 as a prototype and is expected to commence production soon.
Sister company Snorkel also offers a compact unit, the SR5719 compact rough terrain telehandler that delivers top performance in a compact design, according to the company. Featuring full-time, 4-wheel drive, power assisted steering and proportional joystick, the telehandler is packed with power and precision to lift materials in any application.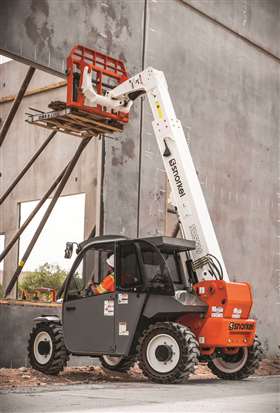 Capable of lifting up to 5,732 pounds with a maximum lift height of 19 feet and a maximum forward reach of 10 feet, 4 inches, the telehandler is an ideal lift for contractors and rental companies, as it can be easily transported and delivers high levels of operator comfort. The compact unit features a Tier 4 Final Yanmar engine and weighs 10,360 pounds.
Dieci manufactures a 5,500-pound capacity telehandler, the A55.19. The unit has a maximum lifting height of 19 feet and is powered by a 73 hp engine.
"The A55.19 is made for general construction, landscaping, lumber yards, nursery, industrial, agricultural and concrete work applications," the company said. "Unlike skid steer loaders, the operator does not have to step over the top of the attachment. Plus, when the jobsite is crowded, the last thing needed is another big machine to maneuver. The Dieci super compact A55.19 gets the job done."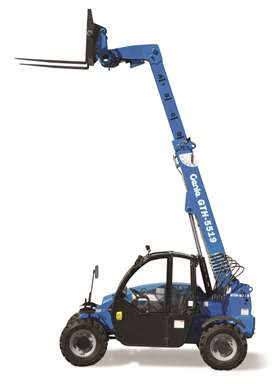 Genie's most popular telehandler model by volume has always been the GTH-5519 model, which features a 5,500-pound capacity and a 19-foot lift height. The unit's forward reach is 11 feet, where it can then handle up to 1,900 pounds. At maximum lift height, the it can handle 4,400 pounds of capacity.
Skyjack's SJ519 TH offers a 5,500-pound lift capacity and a maximum lift height of 19.1 feet. With a fully opening door, operators can access their cab with ease. At its maximum reach of 11.25 feet, the SJ519 TH can still lift a rated load of 4,400 pounds, Skyjack says. Also, all major service points are easily accessible.
Skyjack says when designing the SJ519 TH, it was imperative for that the term "compact" didn't play a role in decreasing operator comfort. The cab on the SJ519 TH features a fully opening door, which enables operators to access the cab with ease, increasing total operator space that is virtually identical in cab size to the rest of our TH series.
"When we started the design phase for this product we knew we wanted to maintain similar features with our existing telehandlers. It's Skyjack's consistency across products that adds to simplicity of service, and decreased downtime for our customers," said Barry Greenaway, product manager at Skyjack.
Skyjack's SJ519 TH offers a skid steer attachment adaptor plate option which allows the operator to use a wide range of skid steer attachments with an auxiliary flow of up to 18GPM. Additionally, the small stature of the compact telehandler means operators have increased maneuverability onsite and can contribute to various tasks that traditional telehandlers cannot.