SMOPyC Preview: Spanish showcase
By Chris Sleight09 May 2008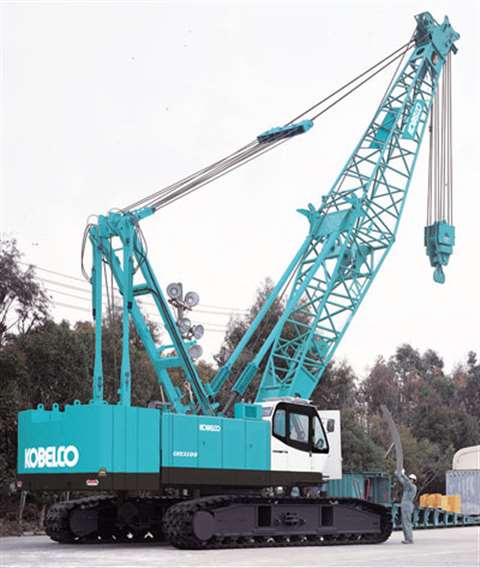 The end of this month will see the Smopyc exhibition held in Zaragoza, Spain, the construction equipment's third major international exhibition this year.
But despite this year being busier than most for trade shows, Smopyc remains a popular event. The last time it was held in 2005, again close to the Samoter and ConExpo shows, it attracted 82427 visitors and 1828 exhibitors took-up 115430 m2 of total net exhibition space.
Another important point is that the 2005 event was held in early March in freezing weather. It's move to late April - the show starts on Tuesday 22 April and closes on Saturday 26 April - should mean more agreeable temperatures and a more enjoyable experience for visitors and exhibitors alike.
This year's show will be the 14th time Smopyc has been held, and the show has grown over the years partly on the back of the booming Spanish construction market.
Having said that, the event is well supported by overseas exhibitors and attracts plenty of international visitors. In 2005 non-Spanish companies took up just over 15000 m3 of the exhibition space and there were more than 6000 international visitors.
All the big names in the industry take stands of course, although many will be represented by their Spanish dealers and distributors, rather than participating directly. This is an important point to bear in mind when visiting the show, and it can be useful to check which company name to look-up in the show catalogue before setting off for Zaragoza.
BY the same token, some companies are now exhibiting 'direct' at Smopyc, rather than using dealers. One such example is Mecalac, which will have its own stand at this year's show, rather than exhibiting through Volvo Maquinaria.
New equipment
One brand new machine at the show will be Kobelco Cranes' 110 tonne capacity CKE1100 crawler crane. It offers a main boom length of 15,2 to 70,1 m, with a maximum rated load of 110 tonnes at 3,6m radius. The maximum achievable hook height is 80 m. Transportability has been given close attention - the base machine, with base-boom installed weighs only 40,7 tonnes and is 3,2 m wide. The separate crawlers and counterweights can be self-installed on site, and when installed, the retractable crawlers are adjustable from 3.5 m to 5.3 m wide.
The standard wide, large-capacity winches with 42,4m spooling capacity on the first layer are fully enclosed and a free-fall option is available with the wet, multi-brakes. The new comfortable cab meanwhile has wider windows and LCD displays for load-moment indicator (LMI) and all machine functions, complete with built-in maintenance alerts and diagnostic analysis.
At the other end of the spectrum, Kubota machines can be seen in Hall 6 on the Ubaristi stand - the company's Spanish importer - and there will be two new machines on display.
The U17-3 is a 11,65 tonne mini excavator equipped with a ROPS/FOPS canopy, D902 Kubota engine, digital display and the company's anti-theft system. Designed for working in confined spaces, the U17-3 features a variable width undercarriage - from 0,9 m to 1,24 m - and a zero-swing radius back end. The machine is being built in Japan and will be commercially available in Europe from this summer.
Kubota's second new model for 2008 is the 3,3 tonneU30-3 alpha 2. A cab version of this German-built machine will be on show at Smopyc and it will be fully available in Europe from May.
Among the new machines from Bobcat at the show will be the E10 Micro excavator. Weighing just 1,07 tonnes, the excavator has a variable width undercarriage that can be narrowed to 0,71 m, allowing it through standard doorways. A unique feature meanwhile is its sliding dozer blades, which can be retracted to get through narrow openings and extended again when work starts.
The company's telehandler line will be represented by the T2250, a compact machine that offers a lift capacity of 2,2 tonnes and up to 5,2 m of lift height. With a width of 1,8 m and a length (without attachments) of 4,19 m, the handler is manoeuvrable and agile.
This year sees Bobcat celebrate 50 years as a skid steer loader manufacturer, and this part of its range will be represented by the S100, a compact new machine with a rated capacity of 453 kg. Weighing in at just 1,8 tonnes, the 2,26 m long, 1,18 m wide machine is easy to transport as well as being highly manoeuvrable in confined spaces.
Central to sister company Doosan Infracore Portable Power's (formerly Ingersoll Rand Utility Equipment) stand will be a G250 250 kVA mobile generator from its new 12-unit PowerSource range. Designed for rental and construction markets in Europe, Middle East and Africa, the new PowerSource generators from 10 to 500 kVA, can run for at least 24 hours without refuelling, ensuring uninterrupted power for critical applications, thanks to high-capacity onboard fuel systems.
Big machines
Liebherr will have one of the larger stands at the show, and models on display will include machines from its earthmoving, lifting and concrete equipment lines. New to the Spanish market is the TL 422-13 telescopic handler, which is now commercially available across Europe. This 13 m height, 4,2 tonne capacity machine features an 84 kW and a low centre of gravity for excellent lifting stability.
Of interest to civil engineers and foundations contractors is Liebherr's move this year into rotary piling rigs. The company's Smopyc display will feature the first of these, the LB 28, which is designed for bore diameters up to 2,5 m and depths up to 70 m.
Manitowoc will be represented at the show by its dealers - Ibergruas and Nordeste for Potain and MOPSA for Manitowoc and Grove. The newest crane on display will be on the Ibergruas stand in the form of the MDT 268 J12. This flat top tower crane offers a maximum radius of 65 m, at which it can lift 2,5 tonnes. It's maximum load is 12 tonnes, which can be picked up at up to 16,5 m.
New from Autec are updates of its MK 06 and MK 08 remote control transmitters. The units are available with a range of actuators, including pushbuttons, toggle switches and rotary-switches, allowing the company to produce tailor-made units for a huge range of applications.
Trimble products can be found on the Al-Top Topografia stand, and the centrepiece will the new software for its LM 80 Layout Manager hand-held computer. Among other things, version 2.0 features new measurement functions, while the version of the software for desktop PCs offers as much functionality in the office as the LM80 provides in the field.
Crushing & screening
Extec, part of Sandvik Mining & Construction will have several machines on show including its larges S-series mobile screen, the S-7. The standard specification features three decks of screens and a side conveyor, while options include a double-deck vibrating grid for the feed hopper and a set of extended conveyors. Other options include extras include vibrating and tipping grids, mild steel hopper liners, overband magnet, reversible side conveyor, and dust suppression system.
Also at Smopyc will be the C-12+ tracked jaw crusher and I-C13 impactor. Power for both comes from Caterpillar engines - a C9 for the jaw and C 13 for the impactor, while the latter features a Krupp Hazemag impact crusher capable high production levels in a range of materials including granite, limestone, asphalt, and construction and demolition waste.
The Terex stand will also feature mobile crushers and screens in the shape of the Terex Pegson 1412 impactor and Powerscreen Chieftain 2100X. The Pegson unit also features a Hazemag impactor and Cat C 13 engine, while options include an under-pan feeder directly under the crusher outlet for recycling applications where there is often a lot of rebar exiting the unit.
Meanwhile the Chieftain 2100X, which is an upgrade of the 2100 model, is fitted with a high amplitude (10 mm max.) screen box, and is available in twin- or triple-deck versions. The engine has now been fitted transversely in the chassis giving more room for servicing, while walkways have been widened and stock pile heights are increased.
In the concrete sector Baryval-Serviplem will show 11 machines, including seven truck mixers. The newest models at Smopyc however will be its 36 m3 dry bulk tank and a new semi-trailer model, which has been designed to be both light and durable.