Snorkel and Xtreme celebrate with launches
By Euan Youdale22 January 2019
Snorkel is celebrating the start of its 60th year in business with the launch of two new telehandlers at World of Concrete 2019, while sister company Xtreme Manufacturing launches three telehandlers.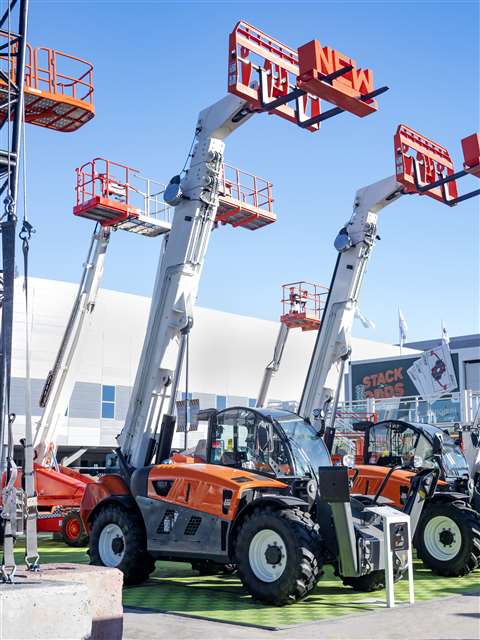 One year on from the introduction of the 5,700 pound (2,600kg) capacity Snorkel SR5719 at World of Concrete 2018, Snorkel is introducing two larger capacity models – the SR9244 and SR1054. The SR9244 offers a lift capacity of 9,260 pounds (4,200kg), a maximum lift height of 44ft, 4in (13.5m) and a forward reach of 31ft 2in. (9.5m), while the larger SR1054 delivers a lift capacity of 10,000 pounds (4,535kg), a maximum lift height of 53 ft, 9in (16.4m) and a forward reach of 41ft, 4 in (12.6m).
Alongside the two new telehandlers, Snorkel will be displaying the well-received SR5719 telehandler, as well as a selection of popular Snorkel lifts, including the recently launched Snorkel 660SJ mid-size telescopic boom lift, the A46JRT and AB60J articulated boom lifts, material lifts, and a range of electric slab and rough terrain scissor lifts. Snorkel will also be introducing a new narrow width compact rough terrain scissor lift, the S2755RT, that can be easily transported between jobs on a trailer towed by a car or commercial vehicle.
Snorkel will also be showcasing it's rebuild capabilities at the show with a Snorkel TB42 that has been fully rebuilt on one half of the machine, to illustrate the difference.
Xtreme launches
The new Xtreme XR742 has a 7,000 pounds (3,175kg) lift capacity, a maximum lift height of 42ft (12.8m) and a forward reach of 26ft, 11in (8.2m), while the new Xtreme XR944, which replaces the Xtreme XR842, has a 9,000 pound (4,082kg) lift capacity, a maximum lift height of 44ft (13.4m), and a maximum forward reach of 28ft, 10in (8.7m).
Both models utilize a common chassis design that is also used on the Xtreme XR1055 and XR1147, improving familiarity across the product range and reducing spare parts inventory when operating a fleet. They feature a three-section boom with long-life boom rollers as standard, and both are electric over hydraulic, with fully automatic transmission. They also share a common control system with the XR619, XR1055 and XR1147.
Designed for tough jobsites, the XR742 and XR944 are equipped as standard with a Cummins 3.8L 74hp high torque Tier 4 Final engine. An optional 120hp engine is available on both models. Ideal for working on uneven terrain, both telehandlers have a ground clearance of 16.5in (419mm) and frame leveling up to 11° left to right, as well as a suspension seat as standard to ensure a comfortable ride for the operator.
Weighing 27,000 pounds (12,245kg) and 28,700 pounds (13,018kg), respectively, the XR742 and XR944 are built to last. Both models feature a steel construction, as well as steel hydraulic and fuel tanks, and are backed by Xtreme's industry-leading 10-5-2 warranty.
Shown as prototypes at World of Concrete 2019, they are scheduled to commence production at Xtreme's facility in Henderson, Nevada in Q2 2019.
Sharing a 9,500 square ft (882 square metre) outdoor booth with sister company Xtreme Manufacturing, Snorkel can be found at booth #O30099 in the Silver Lot.