Snorkel product expansion at Bauma China
By Euan Youdale24 November 2020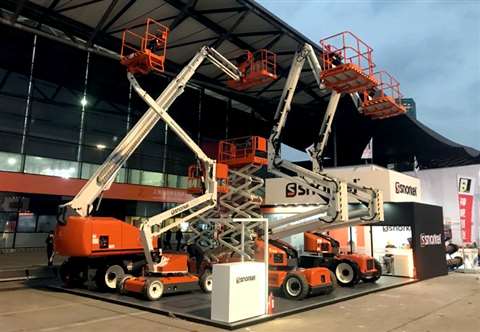 US-based Snorkel has expanded its China-manufactured product line with articulating and telescopic boom lift models, being shown at Bauma China this week.
From its 3,000sqm production facility in Jintan, Jiangsu Province, Snorkel began assembly in 2017 of two electric slab scissor lifts, the Snorkel S3219E and S4732E. This was followed by the introduction of the A46JE electric articulated boom lift in 2018, and the A38E electric articulated boom in 2019.
This year the company has expanded its offering with two diesel-powered boom lifts, the Snorkel A46JRT and the Snorkel 660SJ.
The A46JRT articulated boom lift has a working height of up to 16.3m and an outreach of 7.35m. Ideal for working in tight spaces, the A46JRT has an inside turning radius of just 0.8m, and the boom operates with zero tail swing.
The 660SJ telescopic boom lift is equipped with an 18.3m boom and a 2m articulating jib. Delivering a 20.1m maximum platform height and an outreach of up to 18.0m, the model has an unrestricted lift capacity of up to 272kg.
Matthew Elvin, CEO of Snorkel, said, "We continue to expand our offering in China, working closely to meet the requirements of our customer base, and we are confident that these two new models will be well received in the market. Although unable to attend in person this year, I wish our Snorkel China team, our customers and vendors, and all those involved in Bauma China a safe and successful show."
Snorkel is displaying all six of its China-built lifts on its outdoor stand at Bauma China, taking place 24 – 27 November 2020 in Shanghai.