Snorkel promotes Andrew Fishburn
By Lindsey Anderson17 June 2019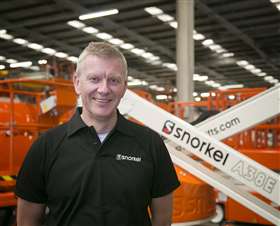 Snorkel has promoted Andrew Fishburn to the newly-created role of vice president of strategic accounts EMEA.
Fishburn joined the company in 2016, bringing significant industry experience to his role as divisional managing director for Snorkel UK. Prior to joining Snorkel, he previously worked with JLG, as well as providing sales training and consultancy services.
In the past three years, Fishburn has successfully developed Snorkel UK to be a leading provider of both Snorkel lifts and Ruthmann Bluelifts for the UK and Ireland. This laid a solid foundation for the opening of Ahern Ireland, a dedicated sales, service and parts facility supporting Northern Ireland and the Republic of Ireland, the company reported.
In his new role, Fishburn will be responsible for managing strategic accounts within the Europe, Middle East and Africa (EMEA) region, reporting directly to Matthew Elvin, CEO. This will include both cultivating existing relationships, and identifying and developing new business opportunities through the implementation of a long-term, commercial strategy, to drive the future growth of the business.
Of the creation of the new role, Matthew Elvin, CEO, Snorkel, said, "The strategic accounts position in EMEA is the next important step in ensuring our long-term success in this region. It is designed to be complimentary to the roles of our existing EMEA territory managers and distributors, and will focus on maximizing our relationships with multi-national accounts."
"Andrew is the perfect fit for this new role, as he successfully combines a strategic approach, with a passion for product and applications. This will benefit both our customers and Snorkel."
Fishburn added, "We have made great progress in the UK and Irish markets in the past three years, and I am confident that both businesses will continue to grow from the foundations that we have put in place. I am grateful to Snorkel for the trust they have placed in myself to lead those divisions, and now in this new role as we look to build upon our progress in the EMEA region."
Fishburn commences his new position with immediate effect, however he will retain oversight for the Snorkel UK and Ahern Ireland divisions.
Snorkel is also redefining its EMEA sales territories to further enhance regional customer support, and has created two new sales roles covering Eastern Europe, and France, Benelux and West Africa. The company expects to announce these new appointments within the coming weeks.