Snorkel starts production in China
By Euan Youdale30 October 2017
Snorkel is launching its first production facility in China at APEX Asia, AI can exclusively reveal.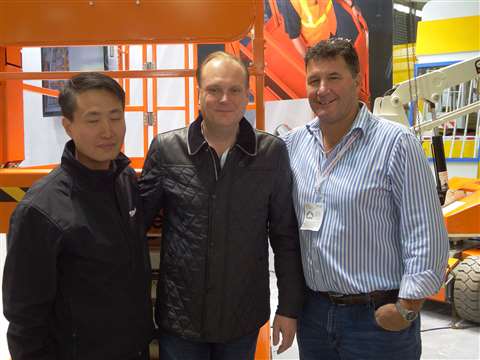 From left: Song Wang, Snorkel China sales manager; Matthew Elvin, Snorkel CEO; and Brendon Campbell, Snorkel COO, at Snorkel's APEX Asia stand the day before the start of the show.
The 3,000 square metre facility in Jintan, outside Chanzhou, opened in 2016 for warehousing and consolidation, now includes assembly lines for Snorkel products for the Chinese market. Production of two electric slab scissors, the S3219E and S4732E, started in August, with the A46JE electric articulating boom set to follow at the beginning of next year. Other products will follow as the market requires them.
Speaking at Snorkel's APEX Asia stand, the day before the show, its CEO Matthew Elvin explained. "We are going to be reactive to the local, serving the needs of the local contractor and rental company in China."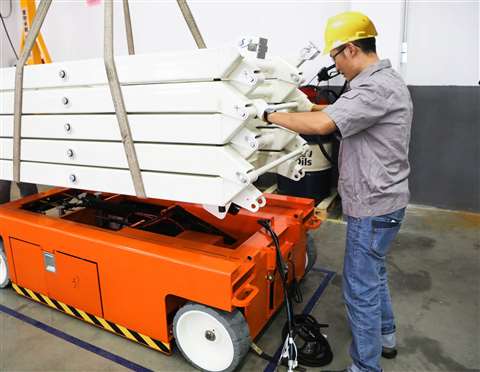 The S3219E has a working height of 7.79m and a lifting capacity of 250kg. It measures 1.78m x 0.81m and can be driven through a standard doorway and used outside by one operator. The S4732E is the largest lift in the family of electric slabs. Weighing in at 2,740kg, it can lift 318kg to a working height of 11.8m and features a roll-out extension deck.
All machines produced at the new plant are part of Snorkel's existing global range, with components sourced from the same suppliers as its other four manufacturing bases. There are no plans to export any units to markets outside China, and the rest of Asia will continue to receive Snorkel products from its UK- and USA-based facilities.
Elvin said this reflected the company's 'think global, act local' philosophy. "We believe in manufacturing as close to our customer base as possible and this facility will deliver our global scissor lift product to customers within the Chinese market."
The decision to produce in China also made good business sense. "It's down to being competitive. The only way to succeed in the market is to manufacture domestically, and I can see the China market being one of the main global markets in the future."
Snorkels CEO Brendan Campbell is overseeing the new facility and explained to AI that it had partly been chosen for its location and to allow Snorkel to meet any capacity requirements in the foreseeable future, with the option to expand into the second half of the building that it currently occupies. "We were looking for the location for about a year, as it had to be future proof."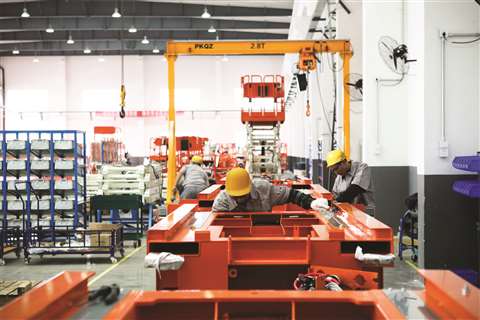 Production started in June, following a year-long search for a suitable site and then recruitment and training of its 27 employees. So far 45 units have been produced there and 35 have been sold, with the first deliveries in August.
According to Song Wang, Snorkel China's new sales manager, who has been in the Chinese MEWP industry since 2007, the new plant will benefit from the estimated 30% year-on-year growth in the overall Chinese lift market.
Wang said the company is now looking for more distributors to add to its existing five in China, as distributors are now responsible for more than half of the manufacturer's sales in the country.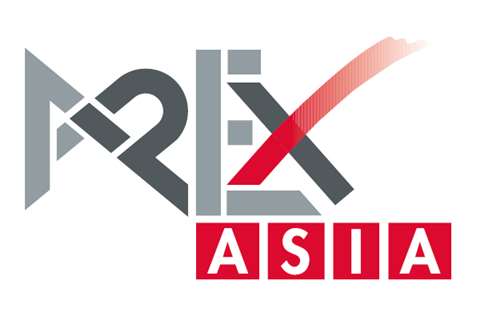 Snorkel is presenting six products on its stand at APEX Asia, being held 31 October – 4 November in Shanghai. It runs alongside material handling and factory automation show CeMAT Asia, which attracts more than 75,000 visitors - visitors can move freely between the two shows.
APEX Asia is organised by KHL Group and B.V. Industrial Promotions International (IPI), in cooperation with Deutsche Messe AG, which organises CeMAT Asia. The show is supported by Access International and the International Powered Access Federation (IPAF).