Socage appoints APS as UK distributor
By Euan Youdale20 February 2017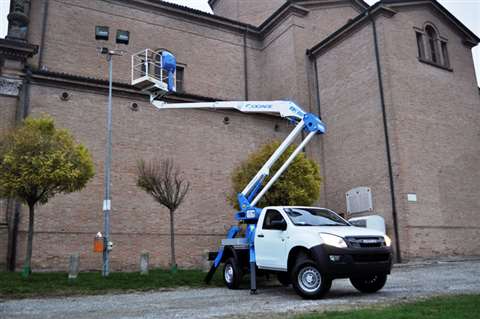 Italian manufacturer Socage has appointed Access Platform Sales (APS) as its distributor in the UK and is offering an extended warranty.
APS is now the official product support provider for the 550+ Socage machines across Britain, including 100 still in warranty. APS will provide all warranty work, spare parts and service to the Socage parc, via its sister company, IPS. Additionally, IPS has invested in significant parts stock, with most fast-moving items available for next-day delivery.
Steve Couling, managing director of IAPS Group, which owns APS and IPS, said, "We are delighted to be representing Socage in the UK.
"The A314 is a hugely popular 13m boom lift, with around 90% market share in the UK. By offering a three-year warranty, Socage is demonstrating its confidence in both the product and in APS as its new distributor."
Engineered specifically for utilities, utility contractors and tree work, the A314 articulated boom provides a maximum working height of 13.5m. Features include tracking inside the boom sections, ensuring that operators can work inside the tree canopy without fear of catching it on a branch. Mounted on an Isuzu D-Max, the vehicle features a powerful 2.5l twin turbo diesel engine which delivers 163PS and 400Nm of torque, with improved fuel economy.
APS will also offer four truck-mounted booms from Socage's E-Series. These provide up to 28m working height on a 3.5 tonne Nissan Cabstar, meaning the vehicle can be driven by anyone with a standard (class B) UK driving licence.
APS will continue to represent the Aldercote brand of van mounted lifts in addition to Socage truck and pick-up mounts.