Socage debuts DA365 at ICUEE
By Lindsey Anderson04 October 2011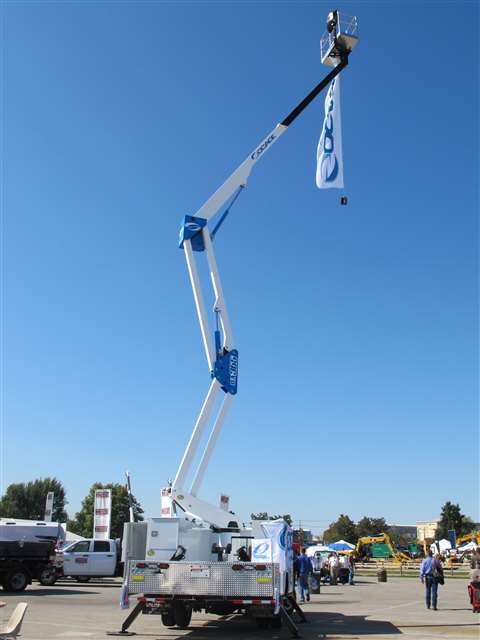 Italian-based manufacturer Socage introduced the DA365 to the - and for the - North American market at ICUEE this week in Louisville, KY.
The 65-foot bucket truck is mounted on a Ford F-550 with a Knapheide body. It features 31 feet, 15 inches of horizontal side reach and a two-man, power rotating, 54-inch by 27-inch basket that holds up to 550 pounds.
The unit features continuous rotation, full pressure upper and lower controls, remote throttle control, remote engine start and stop, 12-volt emergency power at upper and lower controls (including outriggers), four hydraulic outriggers and a basket overload system.
More standard features include: a tool box, anti-collision device between boom and truck cabin, buzzer from the basket, electric hour-counter, emergency hand pump, flanged holding valves and self-greasing bushing amongst others.
Optional features include 110-volt outlet at the bucket and custom sign and lighting body with available inside storage of 10-foot and 8-foot-long items.
The Ford F-550 has a 4-foot by 2-foot chassis, diesel engine, automatic transmission, 19,500-pounds GVW and available payload with the driver and full fuel is 4,500 pounds.
Socage is represented by Truck Utilities, Inc. in the U.S. Truck Utilities has three locations throughout the States; St. Paul, Kansas City and Fargo, ND.