South Korea deal for Snorkel
By Euan Youdale19 September 2018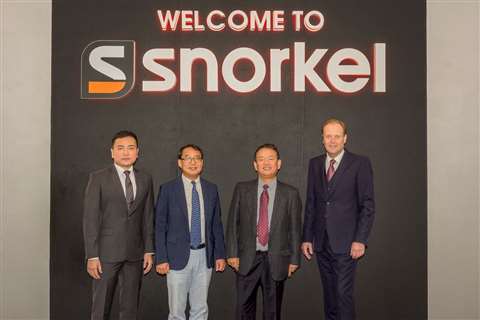 YK Construction CEO, Hosun Chae (centre right) and managing director, Kilsu Song (centre left); with Snorkel CEO Matthew Elvin (far right) and sales director for East Asia, Ken Goh (far left).
South Korean equipment sales company, YK Construction Equipment, has invested in 142 Snorkel electric scissor lifts.
The initial order for a total of 42 units, which includes 21 Snorkel S3215E and 21 Snorkel S3219E electric slab scissor lifts, was delivered in February, and a further order for 100 electric scissor lifts was placed in early August, during a visit to Snorkel's European manufacturing facility in the UK. The second order includes 35 units each of the Snorkel S3220E and S4726E models, and 30 Snorkel S4732E.
Founded in 1999, YK Construction Equipment is a distribution partner for a number of leading equipment brands, including Yanmar, Sakai, Manitou and Gehl, and also offers equipment rental. Operating from 14 locations across South Korea, their service branches are strategically located to ensure easy accessibility to customers across the country. Each service center stocks spare parts, and offers equipment rentals and product support capabilities.
YK Construction Equipment CEO, Hosun Chae, and managing director, Kilsu Song, travelled to North East England in early August, with Snorkel's President for Asia, Glenn Martin, and Ken Goh, sales director for East Asia to tour Snorkel's Vigo Centre manufacturing facility. During the visit, they met with Snorkel CEO, Matthew Elvin, and were given the opportunity to demonstrate a large selection of Snorkel lifts, as well as tour the assembly process and powder coat paint facility.
Speaking of the visit, Chae said, "We were very impressed by the Snorkel facility in the U.K. during our visit. We enjoyed being able to demonstrate a wide range of products, and we have confidence that the Snorkel products will be well-accepted by our customers in South Korea."
Matthew Elvin, CEO, Snorkel, said, "It was a pleasure to host Mr Chae and Mr Song at our UK facility, and to introduce them to our team, facility and product line. We are grateful for their continued business and we look forward to a strong, long-term relationship with YK Construction Equipment."