Space constraints for Cocon Wohnbau
By Laura Hatton11 May 2015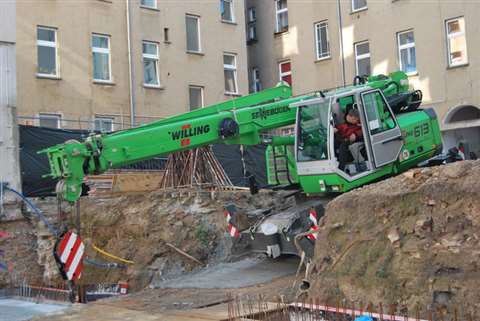 German lifting service provider Cocon Wohnbau, based in Königswusterhausen, used a Sennebogen 613 to help build a block of apartments in Kastanienallee, Berlin.
The new apartments are being built in a rear courtyard in Kastanienallee, which is popularly known as Casting Alley. The area is made up of renovated old buildings and new buildings. It presented Cocon Wohnbau with a space challenge.
To help overcome the difficulties in moving the building materials in the confined space, Cocon Wohnbau used a Sennebogen 613 telescopic crane. The model was provided by Sennebogen sales and service partner Gebr. Willing.
"The first challenge was getting here and delivering the crane," said dealer Georg Willing. "Try driving a crane off of a flatbed here in Kastanienallee without disrupting traffic. That is a challenge. Fortunately, as a telescopic crane the 613 can be set up quickly and needs less space than a conventional crane. To get into the courtyard, the entire crane had to be manoeuvred through a narrow driveway."
Once on site, the 16 tonne capacity mobile crane was used to lift formwork, bricks and roof beams. It was configured with a hook height of 24 metres.