Spanish robotics start-up raises €2 million
By Joe Sargent06 February 2020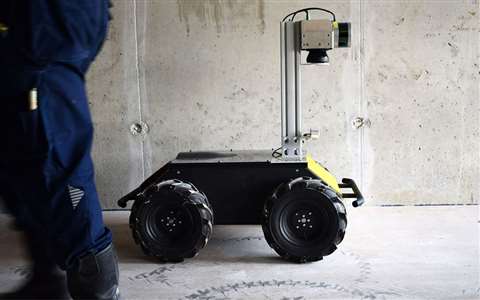 A robotics start-up company based in Barcelona, Spain, has received NOK 20 million (€1.97 million) in funding for the development of technology aimed at reducing time for construction projects and related costs.
The firm, Scaled Robotics, founded in 2015, develops software and hardware that can capture, process, interpret and compile 3D scan data collected from buildings under construction.
One of the company's investors, Construct Ventures – a joint venture company between AF Gruppen and OBOS – introduced Scaled Robotics products into its projects in 2018 and reportedly proved to be "sufficiently promising" hence the investment.
Construction times can be reduced by matching the 3D scans against the pre-defined construction plans in the BIM models. The robotics specialists use this comparison data to identify deviations and errors, enabling problem detection and resolution.
When construction times are reduced in this manner there is potential for significant cost savings.
Jan Fossgård, Managing Director of Construct Venture, said that Scaled Robotics "increases the efficiency of collecting and compiling data, freeing up time that could potentially have been spent on work due to errors that need to be corrected or redone. The investment is Construct Ventures fourth so far, and the first one made in a foreign company."
Another investor, Jannis Roser, managing partner of Surplus Invest, said, "Scaled Robotics is an outstanding deep tech company driven by passion and expertise. We are fully convinced that the team around Stuart Maggs [Scaled Robotics, CEO] and Bharath Sankaran [Scaled Robotics, CTO] will disrupt the construction sector with its solution."
Stuart Maggs, CEO and Co-founder of Scaled Robotics, said, "The tools being developed by Scaled Robotics not only provide a detailed analysis of the state of a construction project but also provide a centralised repository for all information relating to project quality and progress.
"We envision that our products will allow this global US$13 trillion (€11.82 trillion) industry, manage risk and uncertainty in ways that were previously impossible. We are very pleased to have Surplus Invest and Construct Venture on the team, both investors who share our vision of changing the industry through a combination of robotics and artificial intelligence."
According to Fossgård, the products from Scaled Robotics are garnering a particularly strong interest in Europe, "Scaled Robotics has developed a product we believe can help increase the quality and efficiency of construction projects. This is a reliable actor with a very competent team and we strongly believe they will continue to steer the development in the right direction. Based on interest from Europe, Construct Venture believes this is a solution that provides good commercial opportunities."
Backed by its industry partners at Autodesk ADN and its principal investor Peri, the German formwork specialist, Scaled Robotics aims to deliver its message about technology and productivity to impact on the wider construction sector.