Special platforms for Muskrat Falls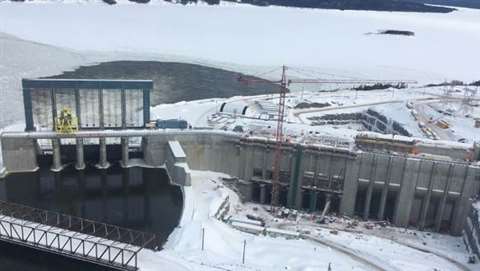 The Special Projects Group (SPG) and Hydro Mobile, two divisions of Canadian-owned AGF Access Group, have been selected by Canmec-CRT to provide nine custom-designed Hydro Mobile F-Series electrically-operated platforms, in addition to the 12 similar units purchased in 2014/2015 for the Muskrat Falls jobsite. The units will provide access to support the construction of the powerhouse upstream and downstream gate structures of the new $7.4 billion Muskrat Falls hydro generating project in Labrador, Newfoundland located on the Lower Churchill River.
Canmec-CRT is involved in the construction activities of multiple parts of the facility including the concrete spillway, intake structures, trash rack, bulkhead and draft tubes. The new Hydro Mobile F-Series platforms have been custom-designed for Canmec-CRT to be used for the construction activities. Special product features for the mast climbers included custom fixed and mobile extensions, custom bridges, semi-automatic greasing systems, oil heaters for extreme winter temperature conditions as well as safe zone detection to allow for safe access and work in confined areas.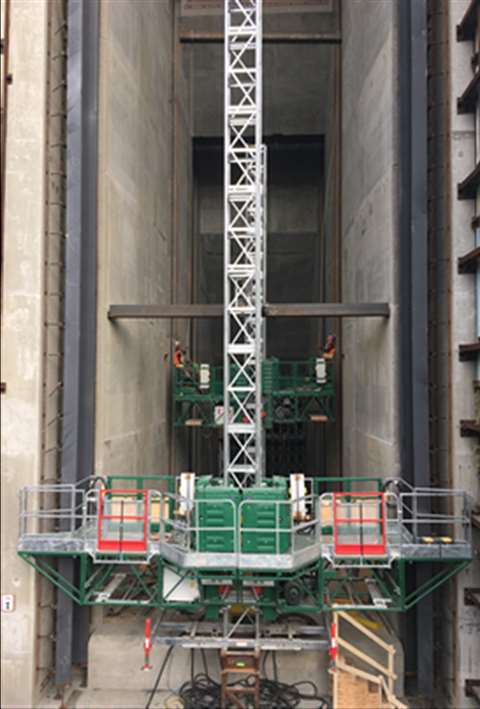 "In the past, Canmec has used standard scaffolding for dam construction. Depending on the environment and application, scaffolding can be a very inefficient option because it's time consuming to erect and dismantle and needs to be built up in phases following each construction step," said Alex Di Domenico, general manager, SPG. "The Hydro Mobile F Series platforms' up and down movement simplifies the overall operation and increases efficiency during site works. The products' modularity also enables them to be easily moved to different parts of the project and reutilized for future projects."
The Hydro Mobile F-Series platforms are designed for projects 100 ft or greater in height and can accommodate the needs of a variety of works types. The fast units, capable of travelling at 38 ft/min and supporting up to 12,000 lbs of capacity, can each be split into two work platforms, travelling independently on one side of the mast.
"The Hydro Mobile team stepped up and applied out-of-the-box thinking to design brand new equipment for the sector to meet aggressive production timelines," said Sony Trudel, engineering director and ppecial Projects, Hydro Mobile. "This type of creativity and execution is what makes Hydro Mobile a category leader."
"We have developed the unique expertise of providing temporary custom access solutions for hydro dam construction," said Di Domenico. "Our access products, combined with our service and safety expertise, create a best-in-class package that cannot be surpassed."
According to the Muskrat Falls Project website, the North dam will be in excess of 400 m long with a maximum elevation of about 39.3m, making it one of the largest roller compact concrete dams in Canada. Once in operation, the Muskrat Falls generating facility will be the second largest hydro plant in Atlantic Canada. This is the final major civil component required for the creation of the final Muskrat Falls reservoir.
As of the end of April 2018, overall construction of the Muskrat Falls Project reached 90% completion. First power from the generation project is expected in 2019 with full power in 2020 according to the project website.