Speedy delivers hybrid power
By Thomas Allen13 October 2020
UK-based rental company Speedy Hire has partnered with contractor Galliford Try Infrastructure to provide an environmentally-friendly temporary power solution to a highway improvement scheme in Leicester.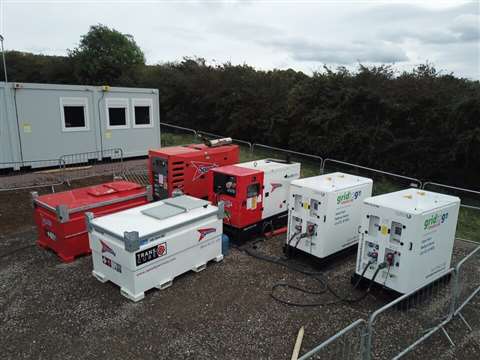 Speedy worked together with hybrid power specialist Off-Grid Energy to provide the contractor with a bespoke site power solution using two diesel generators each linked to a hybrid unit, to help reduce fuel consumption and CO2 emissions.
Compared to a standard generator solution, the hybrid setup was said to have reduced fuel consumption by more than 35,000 litres and cut CO2 emissions by more than 94 tonnes since the power sources went live on the A46/A5630 works in September, 2019.
It was also said to have saved the contractor more than £6,000 over that period.
With the hybrid setup, the site can be powered without using a generator when fewer people are on site.
It also benefits from remote monitoring, which means engineers are required to travel less to inspect and maintain equipment.
Jonathan Scripps, Major Account Manager at Speedy, said, "Construction workers are demanding that the sector does more to improve environmental sustainability, with 82% outlining it as a priority in our recent research.
He added, "Efficient solutions like this, if installed across all construction sites, will play a major role in reducing the overall emissions from the industry. We look forward to working with Galliford Try and its various business divisions to cut down CO2 while using financially viable solutions."
Shaun Beales, Senior Site Agent at Galliford Try Infrastructure, said, "We have found this an excellent solution to a generator-based system. The product has allowed us to find a commercially viable, and environmentally sustainable alternative."
The A46/A5630 scheme led by Galliford Try Infrastructure for Leicestershire County Council involves improvements of a major connection between the A46, the Leicester local highway network, and a new area of housing in north Leicester.