Speedy grows access fleet with Dingli
By Euan Youdale09 February 2022
Speedy has taken delivery of 380 new Dingli lifts following a £4.3m ($5.8 million) investment to replenish and expand its powered access fleet.
Among the Dingli machines delivered to the UK-based Speedy Powered Access are a significant quantity of battery powered scissor lifts and mast lifts, with working heights ranging from 6.7m up to 15.7m
Others include the manufacturer's 12m working height rough terrain 4x4 scissor lift, which are fully compatible with low-emission hydrotreated vegetable oil (HVO). Speedy uses HVO to pre-fuel all its powered access equipment, at no additional cost. According to Speedy, HVO emits up to 90% less CO2e than standard red diesel.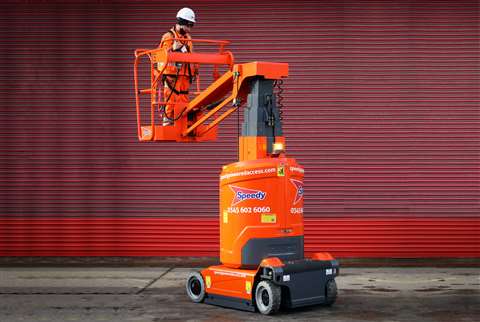 The equipment is available from the firm's 10 Powered Access Specialist Service Centres, located across the UK, including the industry's first low carbon Innovation Centre in Milton Keynes.
Speedy's recent order builds on a previous investment in April 2020, which added 130 Dingli scissor and mast boom lifts to its fleet.
Andy Briggs, managing director at Speedy Powered Access, said, "Contractors are increasingly choosing low carbon equipment that helps them to meet clients' emissions targets. We're making significant investments to replenish and expand our powered access fleet to boost availability of the sustainable assets they require UK wide.
"We're already seeing strong demand for the new Dingli machines as we help contractors to work safely, sustainably and efficiently at height."
Andy Northwood, general manager at Dingli, added: "It's a strong vote of confidence that Speedy has chosen to make its second major order with us in the space of a year, as it strives to provide the best assets to its UK wide base of customers. We're pleased to be working with Speedy Powered Access and are committed to helping to provide more environmentally friendly solutions."