Speedy invests in electric delivery trucks
By Leila Steed04 January 2023
UK-based equipment rental company Speedy has invested in two battery-electric powered trucks from Fuso.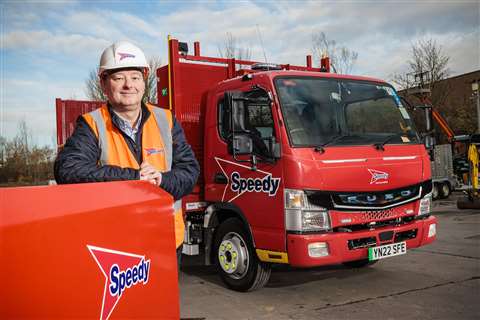 The company added two Fuso Next Generation eCanter models to its fleet, which already comprises 50 electric vans, in order to make its customer delivery services more environmentally friendly.
The eCanters have six 13.6kWh lithium-ion batteries that produce around 66kW of usable power, and are fitted with plant-carrying platform bodies with dropsides.
The light-duty trucks, which are already being used to deliver equipment and tools to customers, provide a maximum range of 100km (62 miles) on a single charge and can be used with an AC charging station.
Describing the purchase as a "big step towards a sustainable customer delivery model", the trucks are the first battery-electric vehicles in the 7.5t class to be purchased by Speedy, and were said to offer an "exceptionally high body and payload allowance, as well as a compact footprint".
According to the rental company's fleet director, Aaron Powell, transitioning to low-emission delivery vehicles is something it plans to carry out as "quickly as is practically possible".
Powell said, "At Speedy, we strive to be environmentally responsible because we recognise that it's the right thing to do. But it's also something that our customers expect from us.
"Increasingly, large corporate customers are demanding that every business in their supply chains should take all available measures to operate as sustainably as possible."
"In our case, that means investing in electric vans and trucks, so the eCanter is likely to feature prominently in our plans for the future."
While one of the eCanters is currently based at a Speedy branch in Warrington near Manchester, the other has been stationed further north at a depot in Cumbria, to serve contractors involved in the decommissioning of the former Sellafield nuclear power station.
Commenting on why Speedy chose to purchase the Next Generation model, Powell said, "We reviewed the market before settling on the Fuso eCanter.
"There are battery-electric alternatives available, but these are either aftermarket conversions or vehicles that are very new.
"The eCanter, by contrast, is a factory-built truck that is already well proven in operation and comes with a bumper-to-bumper warranty."
This latest investment by the company, which recently posted a 13.8% rise in revenues to £212.4 million for the six months to 30 September 2022, is part of its ongoing efforts to meet carbon targets. 
It follows an £8.25 million (€9.6 million) in its commercial fleet, made in June of 2022, for 150 electric vans, which would see it convert more than half of its 1,100-unit-strong fleet to electric or hybrid units by 2025.